'What's Wrong With Secretary Kim' Actor Park Seo Joon Is The Hottest K-Actor In China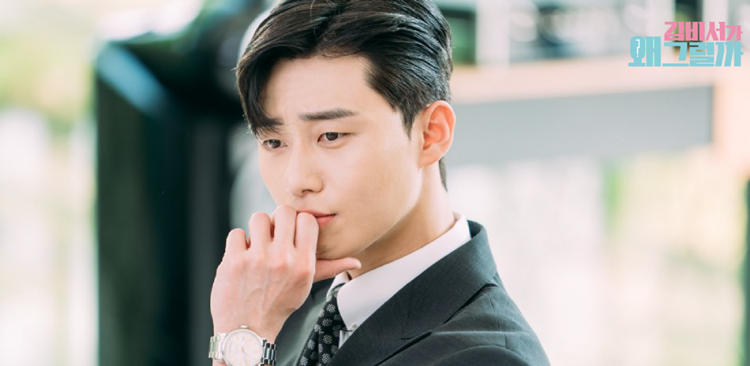 Park Seo Joon is undeniably one of the most popular Korean actors today thanks to his ongoing K-drama What's Wrong With Secretary Kim. His fame, however, is not only in SoKor but also in other countries, particularly in China.
Park Seo Joon took the second spot in Weibo's Hallyu influencers chart, next to BTS. He ranked as the top influencer of all Korean actors today. His K-drama What's Wrong with Secretary Kim, also appeared among real-time search keywords on Weibo. The phrase "Secretary Kim finally kissed," in particular, topped in search rankings.
Park first gained attention in China for his role in 2015 MBC drama She Was Pretty. In the series, he portrayed a stubborn and arrogant deputy chief editor of a fashion magazine. It was a hit in both China and South Korea.
Chinese fans did not forget Park after She Was Pretty and the interest in him and his shows continues. In 2017, he also starred in the romance drama Fight For My Way. It was also a top-rated series in its time slot. But Park's popularity soars higher because of What's Wrong with Secretary Kim.
In the tvN romance comedy series, Park Seo Joon plays the role of Lee Young Joon, a conceited vice president of a large corporation. He captured the hearts of the netizens because of his overconfident attitude yet a loving and romantic boyfriend to Kim Mi So (Park Min Young).
"Park Seo Joon's romantic yet refreshing charms and Chinese netizens' interest in What's Wrong with Secretary Kim have had a synergistic effect. There has been a sudden increase in Chinese netizens who are re-watching Park Seo Joon's previous works. These netizens also share their reviews of the dramas, and affectionately call him vice president or Young Joon oppa," Soompi cited an industry source saying.
What's Wrong with Secretary Kim is currently dominating the ratings in its timeslot. The July 11 episode recorded an average nationwide viewership rating of 8.7 percent, the show's best as of yet. In the episode, lead characters Lee Young Joon and Kim Mi So shared a passionate kiss once again.
In What's Wrong with Secretary Kim Episode 13, Young Joon and Kim Mi So will deal with temporary separation as he will go on a business trip without her. The hit K-drama airs every Wednesday and Thursday at 9:30 p.m. KST.
© 2019 Korea Portal, All rights reserved. Do not reproduce without permission.