Caitriona Balfe Meets Prince Harry; 'Outlander' Clan Wishes For Duke of Sussex Cameo In Starz Series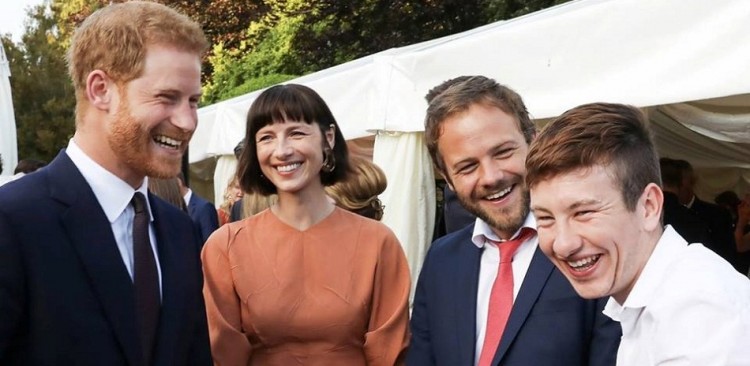 Outlander star Caitriona Balfe chatted with Prince Harry in the recent trip of the Duke of Sussex to Ireland with his wife, Meghan Markle. While in Dublin, the Duke and Duchess of Sussex invited some of the well-known Irish personalities for a summer garden party. Balfe was one of those who got the royal couple's invite.
She was photographed talking to Prince Harry along with fellow Irish stars Moe Dunford and Barry Keoghan. Dunford is known for his role as Aethelwulf in the TV drama Vikings, while Keoghan appeared in the Christopher Nolan-war movie Dunkirk.
Many fans took notice of Balfe staring at the prince. One fan jokingly tweeted that based on how the actress looked at Harry, Jamie Fraser (Sam Heughan) needs to keep an eye on others redheads around the United Kingdom. Another wrote that the actress clearly has her eye on ginger heads. Balfe plays the role of Jaime's wife, Claire Fraser, in the fan-favorite drama series Outlander.
Other photos of the Irish actors show Balfe talking while Harry is listening intently. It is unclear if the actress also met Markle at the event. It would be interesting to know what the two will talk about as both of them have starred in hit TV series. The Ireland trip was Harry and Markle's first official overseas visit following their extravagant wedding in May.
Meanwhile, some Outlander fans can't help but wish for a cameo from Prince Harry in the Outlander series, probably as a prince, too. The Starz time-travel drama is one of the most popular TV series today that is mainly filmed in Europe; hence, it is likely that Harry may have heard about it.
However, it is improbable that the Duke of Sussex will appear in any TV drama series since the members of the Royal Family rarely do it. They only show up in selected documentaries or special interviews.
Markle starred in the hit series Suits, but she quit the show as soon as her engagement to Prince Harry was announced. Harry and his older brother, Prince Williams, previously had masked cameos as Stormtroopers in Star Wars: The Last Jedi. However, the scene was eventually cut at the last minute by director Rian Johnson.
Meanwhile, Balfe will be seen next in the upcoming Outlander Convention in Las Vegas this weekend. The actress, along with the other cast members such as Sophie Skelton (Brianna Randall), Richard Rankin (Roger Wakefield), Graham McTavish (Dougal MacKenzie), Steven Cree (Ian Murray), and César Domboy (Fergus Fraser), is going to Las Vegas for the event.
Unfortunately, Sam Heughan will not be able to join them due to the conflict in schedule. The actor is currently tied up for the promotion of his upcoming movie, The Spy Who Dumped Me, which is set to premiere on August 3. Additionally, Heughan has been cast in the superhero movie Bloodshot. The Vin Diesel-flick will reportedly start filming in Prague this summer.
As for Outlander Season 4, the cast and crew recently wrapped up filming. It is scheduled to premiere in November.
Photos: British Embassy Summer Party in Ireland -- see more photos at 'Caitriona Balfe Fan' (a fansite): https://t.co/r5eHwBXFYs #CaitrionaBalfe #Outlander #ClaireFraser @caitrionambalfe pic.twitter.com/0m6oxpTDUX — Caitriona-Balfe.com (@CaitrionaFan) July 11, 2018
© 2023 Korea Portal, All rights reserved. Do not reproduce without permission.