BTS's Jin Beats Park Bo Gum & EXO's Sehun In Strange Beauty Contest Among Male K-Pop Idols [PHOTO]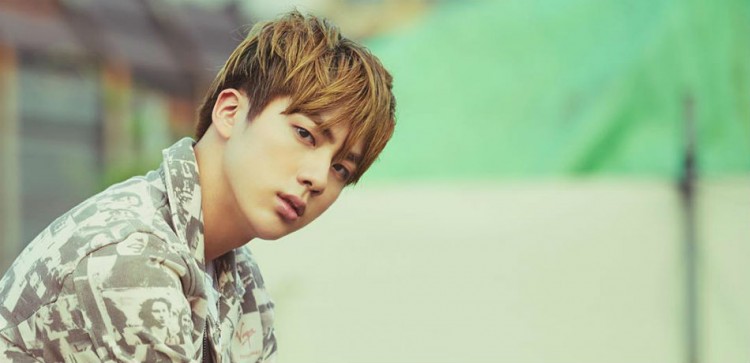 There is no question that BTS's Jin is one good looking man. In fact, even non-K-pop fans were in awe after seeing him for the first time in the 2017 American Music Awards red carpet. Now, the singer ranked No. 1 in a beauty contest among male K-pop idols. However, it was quite a ridiculous contest.
Jin is so handsome that he has gone viral several times for his visuals. The 25-year-old South Korean singer and dancer had been gaining attention for his "worldwide handsome" face. However, the latest proof of his off-the-charts good looks might be the strangest one yet.
In a recent survey held by DC Inside and MyCelebs, Jin came up on top as "A Star That Would Look Handsome Even With Bibim-guksu (spicy noodles) On Their Head"! If that's not enough proof that the BTS star can look handsome in anything, then we don't know what is.
Out of all the candidates, BTS's Jin took first place by winning 41.4 percent of the votes. The Love in the Moonlight Actor Park Bo Gum came in second with 17.1 percent, then EXO's Sehun is third with 11.6 percent. Siwan, Song Seung Hun, So Ji Sub, Ji Chang Wook, Jung Woo Sung, Seo Kang Jun, and Kim Soo Hyun took 4th to 10th place, respectively.
After winning the strange title, fans started to share edited photos of Jin with the spicy noodle on top of his head. Not surprisingly, the BTS singer still appeared to rock the look and maintained his "worldwide handsome" status.
"Of course Jin would win! He is Worldwide Handsome he would look good in anything! Talented visual king!" One fan said. "Mr. Worldwide Handsome would still look good with jjigae (stew) on his head," another one shared.
Although it was quite a ridiculous beauty contest, fans believe that it was just a fun way to prove that these male celebrities/candidates would look good in anything, and Jin won hands down. The BTS star's confidence might have also played a role as he is not one to shy away from saying that he's handsome. "Worldwide handsome indeed," one fan perfectly summarized Jin's latest achievement.
BTS' Jin voted the #1 star that would look handsome even with noodles on his head

BTS' Jin has been voted the star that can look handsome in anything.

From July 1 to July 7, a fun poll with the title, 'A Star That Would Look Handsome Even With Bibim-guksu (spicy noodles) pic.twitter.com/Jpplrh2smD — • (@BangtanSweety) July 12, 2018
© 2023 Korea Portal, All rights reserved. Do not reproduce without permission.