MOMOLAND's Nancy Jealous Of BLACKPINK? Singer Glared At Jisoo, Jennie, Rose & Lisa [WATCH]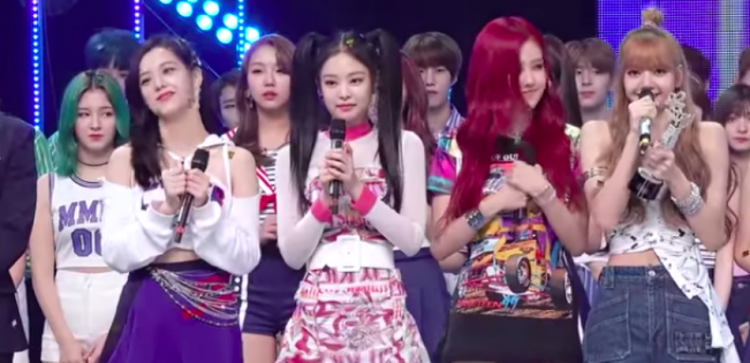 BLACKPINK is on a winning streak after their mega-successful comeback with their latest hit "DDU-DU DDU-DU." Although K-pop fans are known for starting rivalries and chaos, most artists support each other and are inspired by those who reached the top. With that said, many pointed out that MOMOLAND's Nancy appeared to be glaring at Jisoo, Jennie, Rose, and Lisa in a recent award show. Was she jealous?
While BLACKPINK members Jisoo, Jennie, Rose, and Lisa were giving their acceptance speech in Music Core, netizens couldn't help but notice MOMOLAND's maknae Nancy with a huge frown on her face and appeared to be glaring at the YG Entertainment girl group.
As expected, BLACKPINK fans were upset with Nancy for showing such behavior in public and took their frustrations on social media. Some even said that she was jealous of Jisoo, Jennie, Rose, and Lisa's success.
"So disappointed. I thought they are loveable idols, but that was BIG WRONG. [Their] attitude [are] so bad. I never expected this. Please change your group name to: 'JEALOUSYLAND' " one fan said. "She's so jealous," another one said, adding two laughing with tears emojis.
Although Nancy's frown and "glare" were pretty obvious and couldn't be denied, many were still defending the MOMOLAND star. Fans noted that there is a high chance that the 18-year-old South Korean singer and dancer was just tired after doing multiple promotions for their comeback. Some also pointed out that Nancy has an RBF (resting b***h face).
"She makes that face a lot, it's just the face she makes without realizing, I've noticed. She should maybe smile more but she looks very tired too, and there's no doubt the company overworks the girls," one fan said. "Nancy's just tired, that's all. And that look? That's [the] face of a girl who didn't have [enough] sleep and rest for almost two months! Please BLACKPINK fans, don't misunderstand our Nancy, she even clapped for them," another fan pleaded.
Despite the hate that Nancy quickly got from her alleged glare at BLACKPINK, many did point out that the MOMOLAND singer smiled and clapped at the end. It is no secret that most K-pop idols are overworked, so there's a possibility that the young star was just really tired at the time.
© 2019 Korea Portal, All rights reserved. Do not reproduce without permission.