BLACKPINK Update: Jisoo, Jennie's Sexy Dance Move Makes Everyone Crazy [WATCH]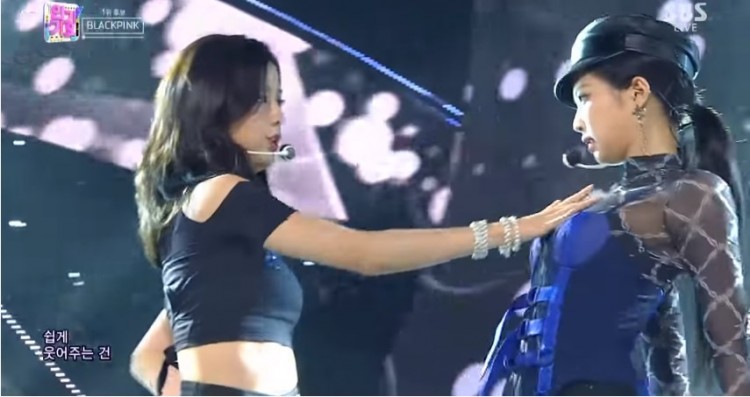 BLACKPINK is continuously dominating the charts, shows, and of course, their fans' hearts with their hit song "Ddu-Du Ddu-Du." In fact, when the group recently graced the stage of Inkigayo, Jisoo and Jennie caught the attention of everyone.
Fans were stunned to see the performance of Jisoo and Jennie on Inkigayo. The two looked incredibly sexy—especially when Jisoo started to touch Jennie when they were dancing. There was even a GIF image that showed this move that BLACKPINK followers were gushing about.
According to Koreaboo, Jisoo and Jennie perfectly "slayed" that dance move and looked like "total goddesses." Fans even supported this claim and said that "they're so beautiful." "I'm getting goosebumps all over my body," the fan said. Another one revealed that Jennie seemed to always don "fancy and pretty outfits."
Truly, everyone from the group, Jisoo, Jennie, Lisa, and Rosé, is a total package. They sing, dance, rap, and look good while doing it. Fans even praise BLACKPINK and said all of its members are beautiful. In fact, they have a hard time choosing who among the four girls is the best-looking. Someone even said that they are all charming and lovely in their own way.
"The visual members in BLACKPINK are Jenchoolichaeng," a BLACKPINK follower said, combining the group members' names. To stop the competition, another one finally said that they are all gorgeous and glamorous that makes them all the "visual of the group."
Talking about Jennie and Jisoo, the two BLACKPINK members are set to appear in the upcoming episode of Running Man. Soompi confirmed that the two would grace the show along with the former SISTAR member Bora and actress Han Eun Jung.
Jennie and Jisoo's return to the SBS variety show was officially announced on Friday, July 6. An insider from the network even revealed that their episode would be filmed on Monday, July 9. The last time that all of the BLACKPINK members appeared on the show was in December 2016.
Meanwhile, BLACKPINK won first place on Inkigayo for their hit song, "Ddu-Du Ddu-Du." They were followed by Bolbbalgan4 and BTOB with their respective tracks "Travel" and "Only One for Me."
© 2023 Korea Portal, All rights reserved. Do not reproduce without permission.