'Running Man' PD Hits Back On Critics; Stresses Extreme Leisure Sport 'Wing Walking' Is Totally Safe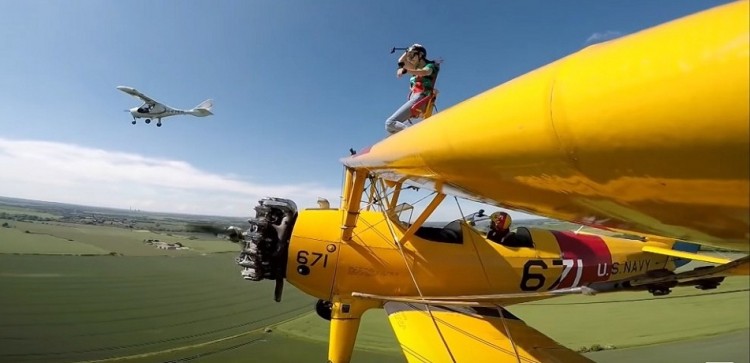 Many viewers of the Korean TV show Running Man watched the latest episode on the edge of their seats. That is because three cast members of this season tried a breathtaking extreme sport called wing walking in England. Some enjoyed the episode while others expressed their concern that the show has gone too far in giving out punishment.
In the recent episode, the Running Man MCs and guests were split into two groups. One took a luxurious vacation in Switzerland while the other traveled to England to experience the so-called wing walking. It is an extreme sport that involves being strapped to the roof of an airplane while it flies to the speed of up to 217 kilometers per hour.
In the episode, Yoo Jae Suk, Lee Kwang Soo, and Lee Da Hee were picked to do the dangerous punishment. Yoo Jae Suk tried the least frightening level of the activity, while Lee Da Hee and Lee Kwang Soo did the more advanced level which includes some twists and vertical drops.
Since Yoo Jae Suk did the simplest level, he performed well and even gave some advice to his two co-stars. He told actress Lee Da Hee that there is no need to wipe her goggles as he had kept his eyes closed throughout his entire flight.
When it was Lee Da Hee turn, she got on top of the plane without any hesitation. She even put on some lip balm as the plane prepared to take off. Lee Da Hee managed to stay calm during the entire flight, but it was not the case with Lee Kwang Soo.
The Korean actor was nervous the entire time. He tried to calm himself down by repeating that he is just dreaming. He also put the calming herbal medicine that Lee Sang Yeob had given him on his mouth before the plane took off.
After about 10 minutes of vertical drops and twists, Lee Kwang Soo finally returned to land, but the calming medicine was all over his face. He explained that the plane suddenly took off before he could even swallow it.
As soon as the episode aired, some viewers expressed their concern about the type of punishment. Running Man PD Jung Chul Min addressed criticisms, saying they have the consent of all the cast members with regard to punishments. Jung assured that wing walking is totally safe as staff members had also tried it themselves during pre-production to ensure the safety of the cast members. He said they wouldn't do the famous leisure sport in Europe if it has any safety issue.
"It's a leisure sport that has not seen an accident in 30 years. If there had been any safety issues at all, I wouldn't have been able to tell the cast members to go through with it," Jung said (via Soompi).
The Running Man PD added that they would continue to do any challenges as long as it is safe and worth taking. He also thanked the cast members for bravely doing such punishment.
© 2019 Korea Portal, All rights reserved. Do not reproduce without permission.