'The Bold and the Beautiful' Spoilers for July 9 - 13, 2018: Steffy Gets A Warning From Hope; Claws Will Come Out [Trailer]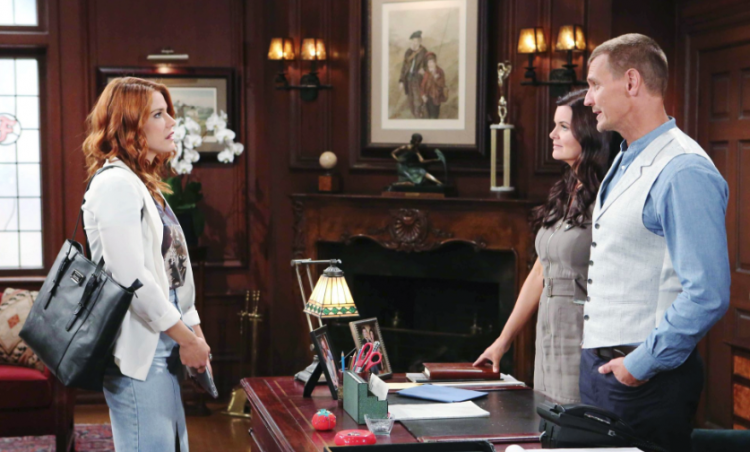 The Bold and the Beautiful spoilers for the week of July 9 to 13 reveal some showdowns fans should not miss. For starters, Steffy (Jacqueline MacInnes Wood) and Hope (Annika Noelle) are up for a battle. Hope is now pregnant, which means their feud is back on.
Hope will get a lot of support from her mother Brooke (Katherine Kelly Lang), who believes that her daughter and Liam should be together. She'll do anything she can to make the relationship happen, and with her support, Hope will gain some serious confidence. She will not go down without a fight.
Hope Warns Steffy
B&B spoilers also tease that Hope will give Steffy a warning. She tells Hope that she won't give up on Liam, to which Steffy laughs off. Steffy believes that Liam will never come back to Steffy even if she's pregnant.
But Hope will not back down and insists that Liam belongs to her. She won't be the martyr anymore and watch Steffy live a happy life with Liam. Once Hope makes clear of her stance, Steffy realizes that it's going to be a full on battle. Fans should not miss how Steffy and Hope's battle will play out.
Sally Gets Accused
Meanwhile, Sally (Courtney Hope) will be trapped in an unfortunate situation. Katie (Heather Tom) and Thorne's (Ingo Rademacher) investigation will lead right up to her, so they'll accuse her for the website threats.
Naturally, Katie gives Sally a smug look and asks her is she really believed she was going to get away with the wrongdoing. Sally denies the accusations and assures both Thorne and Katie that they've got the wrong person.
Sally will tell them she doesn't care if the investigation points towards her, because why would she compromise herself on the new job? Sally is many things, but stupid isn't one of them.
While Sally tries to clear out her name, Wyatt (Darin Brooks) gets a visit from Bill (Don Diamont), and receives an apology. Spoilers also reveal that Bill will get updates concerning Hope's pregnancy, and he realizes he might have a chance with Steffy. However, he has to be very careful about it.
The Bold and the Beautiful spoilers only offer half the story, so make sure to stay tuned for all the drama and the action. Watch B&B on CBS.
Claws will come out, fur will fly, and you'll ever guess what froze over this week on #BoldandBeautiful pic.twitter.com/7n4upzgWKQ — Bold & The Beautiful (@BandB_CBS) July 8, 2018
© 2019 Korea Portal, All rights reserved. Do not reproduce without permission.