5 Cafés In South Korea That Are Instagram-Worthy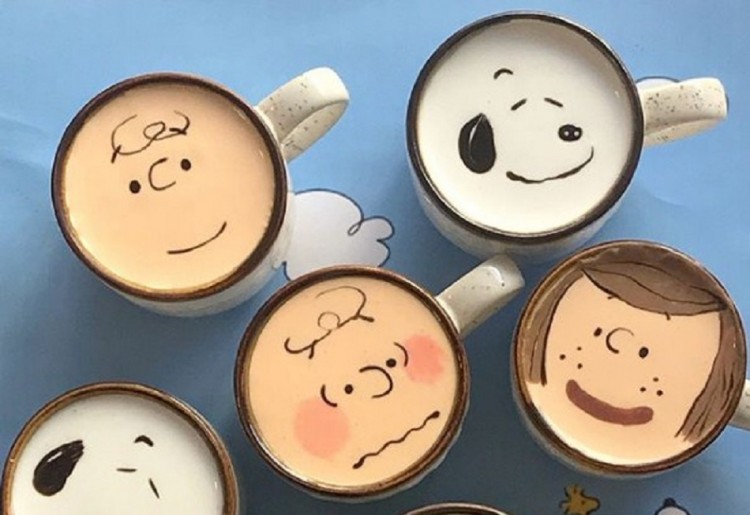 Cafés that offer varieties of drinks and delectable desserts are blooming everywhere in South Korea. These are the best places not only for those who have a sweet tooth but also for many Instagram users. Every snap of a cup of coffee or a piece of macaron is certainly worthy of bragging about online. Here are some of the best cafés in the country that you can share on your Instagram account.
C.Through Café
This café is so popular because of their cute latte art. Located at 403-3 Itaewon-dong, Yongsan-gu, Seoul, you wouldn't want to miss your morning Joe if it is served with adorable latte art of cartoon characters. Check out the photo above.
SMTOWN Café
This is heaven for all K-pop lovers. Their food has SM artist themes like a Super Junior or Girls' Generation cupcake. Moreover, the tables and chairs at this shop have autographs of your favorite SM artists, so it's like sharing your favorite cup coffee with EXO members. Head to the fourth floor of SMTOWN@coexartium to check out this cool café.
dal.komm
This is another awesome café for K-drama fanatics. A number of Korean dramas have filmed scenes at dal.komm. Remember the moment when Dr. Kang Mo Yeon (Song Hye Kyo) broke up with Captain Yoo Si Jin (Song Joong Ki) in Descendants of the Sun? It was a heartbreaking moment for Captain Yoo but not for dal.komm customers.
Check it out at Level 1, Central Park Prugio, 23-5 Songdo-dong, Yeonsu District in Incheon, Korea. Prepared to be a little patient since this chain garners a lot of tourists because of the K-dramas it featured.
Line Friends Store & Café
This place is cuteness overload anywhere you look. The hot meals and cute desserts at this place are to die for. They offer stuffed toys and other cute knickknacks, too. Located at 9 Myeongdong 8na-gil, Chungmuro 1(il)-ga, Jung-gu in Seoul, this place is definitely worth a visit.
Pink Pool Café
Enjoy a lazy afternoon sitting on huge pink pillows and enjoying the view of the city in this the swimming pool-themed café. If you're a fan of the color pink, this café is definitely not short of it.
© 2023 Korea Portal, All rights reserved. Do not reproduce without permission.