'Outlander' Stars Sam Heughan & Caitriona Balfe Celebrate Last Day Of Filming With Hilarious Video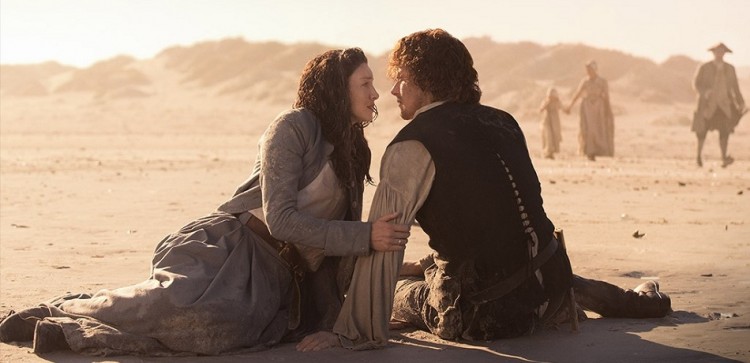 It's a wrap, clan! The Outlander Season 4 cast members will finally have their much-needed rest after months of filming in several set locations across Europe. Lead stars Sam Heughan and Caitriona Balfe celebrated the last day of filming by sharing a hilarious video. The clip also dropped a hint on what to expect in Season 4.
In the footage shared on Outlander's official social media accounts, Heughan pretends to be waking up his sleepy co-star. Then, Balfe asks Heughan why he is interrupting her sleep. The actor excitedly tells her that they have wrapped the filming of Season 4.
"Because it's a wrap, we've finished!... Season four, yes, you've slept through the whole thing," Heughan exclaimed. Balfe then asked her on-screen husband if she could already go home. The actor agreed as they continued laughing.
In the clip, both actors are still in their Outlander costume, and it can be noticed that Balfe has more visible white hair than in the previous season. This means viewers will see a much older but still gorgeous doctor. Claire (Balfe) is already in her 50s in Season 3, while Jamie (Heughan) is 46. In the upcoming installment, Jamie's Sassenach will be more mature as they start a new life in Colonial America.
Meanwhile, Heughan also declared that they are heading to a party to celebrate their last day of filming. Balfe, on the other hand, suggests on her Twitter post she will continue her "disco nap" before joining her co-star in celebration.
"And that's it ... Season 4 is wrapped. What a journey. Thanks to our incredibly hard-working crew, cast members and all our writers, directors and producers and everyone who makes this show happen ... And now #disconap," Balfe wrote.
Cast member John Bell (Ian Fraser Murray) also shared his version of a wrap-up video. He shared a clip along with his character's pet, Rollo. Bell clearly bonded with his cute pooch co-star. The relationship between young Ian and Rollo are among the much-awaited scenes in the fourth season.
New cast member Cait O'Ryan, who will play the role of Lizzie Wemyss, also shared her celebration tweet on their last day of set. She thanked all the cast and crew of the Starz series for welcoming her to the Outlander clan.
Outlander Season 4 is slated to premiere in November. But before it hits the small screen, the cast will be making their first-ever appearance at New York Comic Con on October 6. Sam Heughan, Caitriona Balfe, Sophie Skelton (Brianna Randall), and Richard Rankin (Roger Wakefield) are expected to join the Outlander panel in the event. In May, the time-travel drama had been renewed for Season 5 and 6 as well.
© 2019 Korea Portal, All rights reserved. Do not reproduce without permission.