'Running Man' Pals Kim Jong Kook, Haha Reveal Hilarious Fight Over Yoo Jae Suk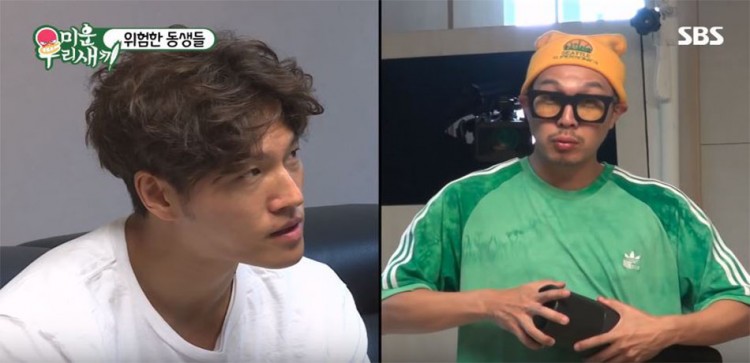 Running Man brought to life a bromance between Haha and Kim Jong Kook that transcended beyond the small screen and into real life. However, the two celebrities revealed that they would rather pick Yoo Jae Suk as their favorite brother rather than each other.
Haha and Kim Jong Kook appear to be fighting over Yoo Jae Suk whom they identified as their most favorite "hyung" or brother. The rapper was the first one to pick the veteran TV personality during a guest appearance on the JTBC show Knowing Brothers.
In celebration of the 2018 FIFA World Cup, Knowing Brothers added a special segment where guests were asked to identify a person that would best fit the role of a good friend. Dubbed the Favorite Hyung World Cup, the father-of-two had to choose between Running Man cast members Kim Jong Kook and Yoo Jae Suk.
Many of the Knowing Brothers cast were expecting Haha to name Kim Jong Kook given the Big Picture duo's friendship. Moreover, the former has been known to exhibit violent tendencies as part of his character on Running Man. Despite Haha's initial hesitation in answering the question, the "Love Inside" singer shared that his ultimate brother would be his former Infinite Challenge co-star.
When news of Haha's choice reached Kim Jong Kook, the Turbo alum stated that he would also choose Yoo Jae Suk as his favorite "hyung." The "Loveable" crooner made the revelation during a special appearance on the MBC FM4U radio show Ji Suk Jin's 2 O'Clock Date.
Taking over hosting duties for Ji Suk Jin who took a quick break due to his father's recent death, Kim Jong Kook shared that Yoo Jae Suk ranked high on his list of friends that would qualify for the Favorite Hyung World Cup. The singer even addressed potential rumors that Haha's choice might disappoint him. Recounting a conversation he had with Haha soon after the said rapper's guest appearance on Knowing Brothers, Kim Jong Kook commented that he praised his friend for giving an honest answer.
Meanwhile, Kim Jong Kook was reunited with Hong Jin Young in the recent episode of Running Man. The two celebrities became an on-screen couple on the SBS variety show given their chemistry together. Both singers even displayed similar fashion styles with a wardrobe collection that boasts of black colored pieces.
Running Man airs every Sunday on SBS. Avid fans can see more of Kim Jong Kook, Hong Jin Young, Haha and other cast members' Switzerland adventure during the show's upcoming July 1 broadcast.
© 2023 Korea Portal, All rights reserved. Do not reproduce without permission.