Song Joong Ki 2018 Comeback: Song Hye Kyo's Husband Might Be Reunited With His 'A Werewolf Boy' Director Jo Sung Hee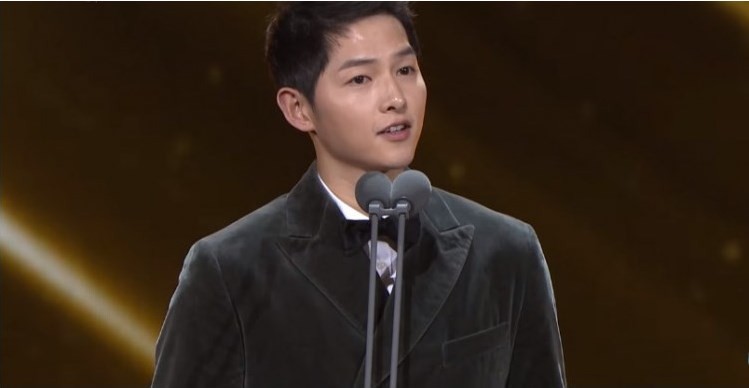 After being in hiatus, fans may finally see Song Joong Ki return to the big screen. Song Hye Kyo's husband might be reunited with Jo Sung Hee, who directed his 2012 movie, A Werewolf Boy.
According to Soompi, Song Joong Ki met with Jo Sung Hee and talked about the next possible project of Song Hye Kyo's husband. Allegedly, the 32-year-old actor agreed to lead the director's next film, which has a tentative title Lightning Ship.
According to reports, Lightning Ship will be set in the outer space. Aside from Song Joong Ki, its cast members will include foreign actors from different countries.
However, in the official statement released by Song Joong Ki's agency, Blossom Entertainment, it said, "Nothing has been confirmed as of yet." Will fans finally see Song Hye Kyo's husband back to the big screen?
If this movie will push through, Lightning Ship will be Jo Sung Hee's comeback movie after his 2016 film, Phantom Detective. Originally titled Space Project, the 39-year-old filmmaker initially wanted to make this film after A Werewolf Boy. But, he ended up doing the Lee Je Hoon movie instead.
Lightning Ship, too, could be Song Joong Ki and Jo Sung Hee's reunion film. To recall, the two previously worked together for the 2012 hit movie, A Werewolf Boy, which got a hold of 6.65 million moviegoers. This film help Song Hye Kyo's husband's shot to fame before he got enlisted.
Song Joong Ki's stardom continued to rise because of his hit drama Descendants of the Sun with his wife, Song Hye Kyo, and the movie Battleship Island. It has been known that the South Korean heartthrob went into hiatus after the Song-Song couple got married in October 2017.
In fact, Song Joong Ki rejected Netflix's offer to have him appear in a new drama, titled Kingdom, which is about a prince who has to protect his kingdom from a horde of zombies, per Korea Portal. Blossom Entertainment confirmed that the actor refused to be in the show because he wanted to put his sole attention to his wedding with Song Hye Kyo at the time. "Song Joong Ki has turned down his role in Kingdom," the agency said in a statement.
© 2022 Korea Portal, All rights reserved. Do not reproduce without permission.