G-Dragon, Sandara Park Dating Rumors: Former 2NE1 Star Reportedly Changed Her Appearance For The BIGBANG Leader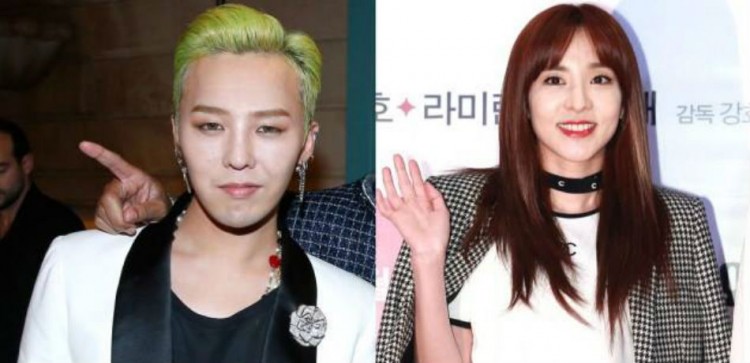 Despite the infamous YG Entertainment dating ban, fans always had a hunch that something romantic is brewing between G-Dragon and Sandara Park. In fact, their closeness is one of the reasons why people started to ship the two. Now, a report revealed that the former 2NE1 star even changed her appearance for the BIGBANG leader.
The 33-year-old South Korean singer, actress, and television presenter is known for her chic style and flawless skin. So when Sandara Park is out and about, she makes sure that she looks good. However, Dara and G-Dragon seem to have a different taste when it comes to makeup.
"I went to a club in full make-up, and G-Dragon said, 'Thats tacky. Who goes to a club in full make-up nowadays?' " Sandara Park revealed during her appearance in Onstyle's program Get It Beauty 2017.
Since G-Dragon is a fashion icon, Sandara Park was aware that the BIGBANG star knew what he was talking about. And because of that comment, the former 2NE1 singer started to take a lighter approach in doing her makeup.
As a matter of fact, when Sandara Park was asked to share some makeup tips on the show, she opted for a natural look, confirming that G-Dragon's words definitely made a strong impact on her. This connection of both YG Entertainment artists led fans to believe that the pair may have already taken their friendship to the next level.
In fact, when Sandara Park was asked to describe her ideal type, G-Dragon ticks all the boxes in her description. The We Broke Up actress revealed that she's attracted to someone who has the same interests as her when it comes to fashion, music, and cats. Physically, Dara wants someone who's slim and cute and not the muscular type. Naturally, the BIGBANG leader was on everyone's mind while she was describing her perfect man.
Unfortunately for the G-Dragon and Sandara Park shippers, the two have constantly denied the dating rumors. The former 2NE1 star even said that she sees the BIGBANG star as a brother, so seeing him as boyfriend material is nothing more than fans' wishful thinking.
© 2023 Korea Portal, All rights reserved. Do not reproduce without permission.