Song Joong Ki & Song Hye Kyo 2018: How Fans Know 'Descendants Of The Sun' Stars Are Dating Even Before Official Announcement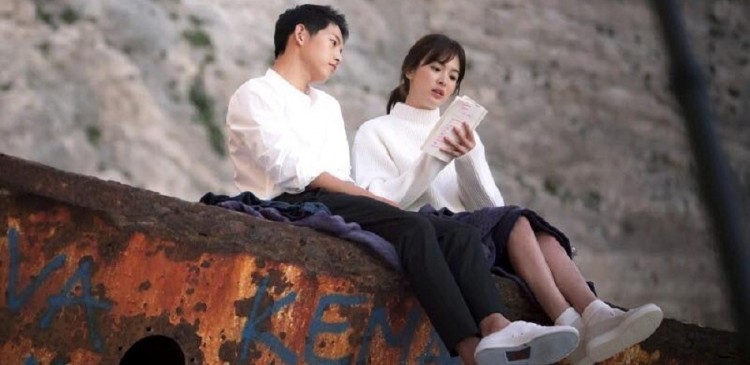 Song Joong Ki and Song Hye Kyo first revealed that they are indeed a couple in July 2015. But even before their respective agencies made the announcement, fans have speculated that the sweetness of the two in Descendants of The Sun is for real.
Many fans of the Song-Song couple believed that the two developed feelings for each other during the filming of DOTS. Throughout the K-drama's run in 2016, the two have said a lot of good and sweet things about each other.
In the past interviews with the two, they shared the things that they admire about each other. From these statements, their fans were already concluded that Joong Ki and Hye Kyo are indeed in love with each other.
In one interview, Song Hye Kyo said her DOTS leading man is the best partner she has ever worked with. She also praised the actor's maturity and good manners. The Korean actress had also called Song Joong Ki as her "strength during a tough time." In another interview, Hye Kyo has also revealed that she wants to meet a man who could handle all her stress, suggesting that a future life partner could be a fellow celebrity.
As for Song Joong Ki, he praised Song Hye Kyo's acting skills and her dedication to her craft. The Battleship Island actor also confessed that his on-screen partner in DOTS is his shoulder to cry on.
Moreover, the two were also spotted hanging out together or out on a trip. In some instances, they also shared cute photos together.
A close friend of Joong Ki and Hye Kyo previously revealed that the DOTS stars actually began dating long before the filming of their hit K-drama started. DOTS commenced filming in 2015. The show aired in 2016.
"The two of them began falling in love last February before Descendants Of The Sun began filming. The drama started filming mid-2015, and only aired after it was completely filmed," Koreaboo quoted the Song-Song couple pal as saying.
Apparently, the two officially met for the first time during the script reading session of DOTS. But even before that moment, there were reports that Song Joong Ki is already interested in Song Hye Kyo. Reports indicated that he once visited the set location of That Winter, The Wind Blows to see her.
During the seven-month production of DOTS in Korea and Greece, the pair got to know each other even better. Song Joong Ki also reportedly shows up at Song Hye Kyo's photoshoot with snacks for his leading lady. Many staff on set believed that there is already a romantic relationship between the two at the time. The Song-Song couple got married in October 2017.
© 2019 Korea Portal, All rights reserved. Do not reproduce without permission.