SHINee New Album Update: K-Pop Idols Tease 'The Story of Light EP 2' + 'I Want You' MV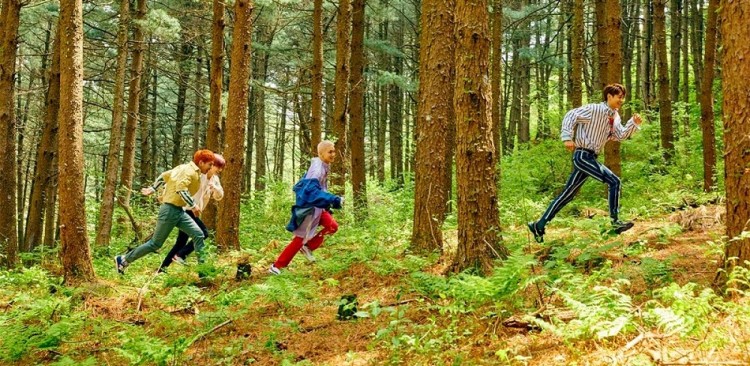 SHINee is totally into their anniversary mode. Just a few days after the successful release of the first episode of The Story of Light, SHINee is now promoting their second release. The four-member group has shared some promo images of The Story of Light EP 2 as well as its lead track, titled "I Want You."
The MV teaser for the album's title track seems like another version of EP 1's lead single "Good Evening." The 27-second teaser showed Onew, Taemin, Key, and Minho looking down a well. The well showed some clips which give viewers an insight into what the boys are looking at in the earlier "Good Evening" teaser. Watch the MV teaser below.
SHINee also shared two teaser snaps for EP 2. One of which seems to have a connection on both MV teasers of "Good Evening" and "I Want You." It shows Onew, Key, Minho, and Taemin running through the forest with smiles on their faces. The other photo features the K-pop group in a more geometric and multi-colored theme.
It was earlier announced that SHINee would be releasing a three-part comeback album in celebration of their 10-year anniversary. Each "episode" of The Story of Light has its title track, and the first part was released on May 28.
The Story of Light is SHINee's sixth full album and the first LP in the last two years. It is also the band's comeback album with only four members after Jonghyun's tragic death in December 2017.
It has been a bittersweet comeback for the group. In one interview, Minho admitted that they were hesitant to do an album and go out on promotional activities after Jonghyun passed away. Key and Onew also admitted that they underwent counseling and post-traumatic stress disorder treatment. SHINee has also implied that they don't plan to look for Jonghyun's replacement and instead asked netizens to help them cope with losing a friend by remembering the band as a five-member group.
Meanwhile, SHINEE has also confirmed that they will be staying under SM Entertainment. During their appearance on MBC's Radio Star, Key revealed that SHINee has a new contract with the label. When asked if all of them signed new contracts, all four nodded in confirmation.
The Story of Light EP 2 is scheduled to drop on June 11. It is consists of five songs. The last episode of The Story of Light will release on June 25, 2018.

© 2019 Korea Portal, All rights reserved. Do not reproduce without permission.