TWICE Sings Jackson 5's 'I Want You Back' For Japanese Flick; K-Pop Group To Perform In 2018 Korea Music Festival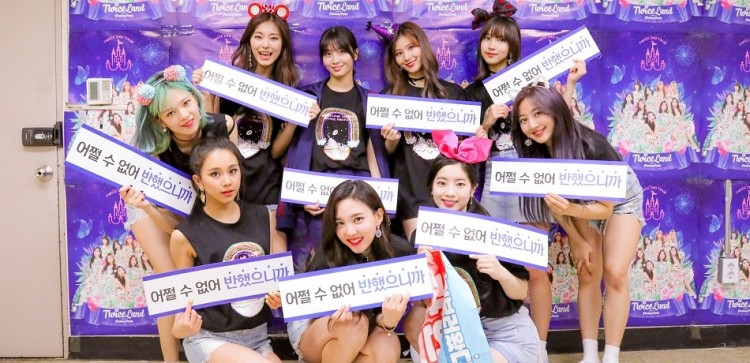 Korean girl group TWICE provided the official soundtrack of the upcoming Japanese romance comedy movie Sensei Kunshu. The nine-member group sang the Jackson 5's "I Want You Back" for the OST of the upcoming film.
The movie released two teasers and both feature lead stars Ryoma Takeuchi and Minami Hamabe. TWICE can be heard in the background singing Jackson 5 hit song in the late 60s. Check out both teasers below.
The upcoming movie is a live-action film adaptation of Momoko Kouda's romance manga series of the same name. It is Kouda's second manga series that gets a live-action film adaptation following Heroine Shikkaku in 2015. Sensei Kunshu was published in shojo magazine Bessatsu Margaret from 2013 to 2017. Its series was compiled in 13 volumes and has printed 1.43 million copies in Japan.
The Sensei Kunshu (Teacher Monarch) story follows the life of 16-year-old high school girl Ayuha Samaru (Minami Hamabe). She is an average student who always tries her best on anything. One day, she has trouble paying her bill at a restaurant. A man, Yoshitaka Hiromitsu (Ryoma Takeuchi), helps her out.
The next day, she finds out that 23-year-old Yoshitaka Hiromitsu is a substitute teacher at her school. The handsome teacher takes charge of her class after her homeroom teacher fell ill. Minami Hamabe falls in love with Yoshitaka Hiromitsu, who is a genius in mathematics but also an arrogant man. Ayuha confesses her love to him but he coldly turns her down.
Ryoma Takeuchi is best known as Shinnosuke Tomari in the 16th Heisei Kamen Rider series Kamen Rider Drive. Sensei Kunshu will hit theaters on August 1.
Meanwhile, TWICE's latest Japanese single "Wake Me Up" has ranked #1 on the Weekly Singles Chart. The girls' third Japanese track has sold almost 300,000 copies in its first week of release. It is TWICE's new record as the girls' sales record has been increasing for every new release in Japan.
TWICE credited their success in Japan not only of their cool vibe and great songs but also because of the presence of three Japanese members-Momo, Sana, and Mina. The K-pop group consists of five Koreans, three Japanese, and one Taiwanese.
TWICE is set to headline the upcoming 2018 Korea Music Festival along with other K-pop groups. The Korea Management Federation released the first set of Korean artists that will perform in the festival this year. The list also includes SHINee, Wanna One, iKON, NCT, EXID, BTOB, Pentagon, SF9, Apink, Mamamoo, Momoland, Gugudan, and Cosmic Girls.
The festival will be held on August 1 and 2 at the Gocheok Sky Dome in Seoul, South Korea. The lineup of performers and the festival will introduce a new ticket system which will involve face verification. No other details about the festival have been announced as of press time.
© 2023 Korea Portal, All rights reserved. Do not reproduce without permission.