HyunA 2018: Former Wonder Girls Singer Might Be A Little Too Provocative For K-Pop, Fans React To Her Sexy Concept [WATCH]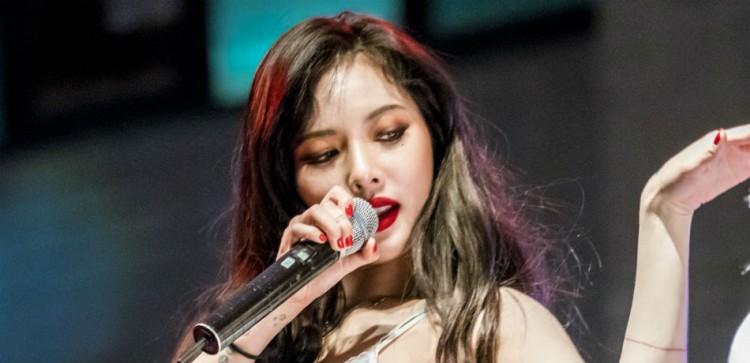 With so many K-pop idols being discovered almost daily, artists in the Korean entertainment world must do something to take it up a notch to be noticed – and that's precisely what HyunA did. However, her latest performance might be a little too provocative for the industry that it caused a hot debate amongst fans.
Wearing just a revealing bralette and a pair of high-waisted jeans, the 25-year-old South Korean singer, dancer, songwriter, and model performed her famous hits at an event held by the Seoul National University of Science and Technology. Being a performer for over a decade, HyunA knows what works for the audience to grab their attention. But did she take it a little too far?
A lot of people noticed that HyunA didn't only dance provocatively, but she also kept touching her breasts that made some fans uncomfortable. Although the former Wonder Girls star is known for her sexy image, many believed that her recent outfit and performance was a little too risqué.
"Even though bralettes are becoming popular no one just wears bralettes alone… It looks like the bras I see sold on TV home shopping channels," one fan wrote. "I know everyone talks highly of foreign cultures, but we're still in Korea~ I like HyunA, but her outfit is too foreign," another one said. Some even went on to say that the former 4Minute singer looked "cheap."
However, HyunA also got love from other netizens. Some of the star's supporters defended her sexy image and said that there was nothing wrong with her outfit and performance at all.
"Why is she getting hate? I've seen even more Rated-R performances at concerts. It just looks like she's checking if her bra is on securely lol I enjoyed your performance," one said. "She's just doing what best fits her image. It was a great performance," another fan shared. Netizens also pointed out that showing off cleavage is such a big deal in South Korea, but most female idols are wearing skirts that barely cover anything, and it's considered okay.
hyuna doing THAT (2018) pic.twitter.com/aWKIwgeLfN — ねこ (@hyunasptg) May 23, 2018
© 2023 Korea Portal, All rights reserved. Do not reproduce without permission.