'Rage 2' News: First Gameplay Trailer Revealed Soon After Live Action Teaser; Devs Boast Sequel Is More Than AAA Title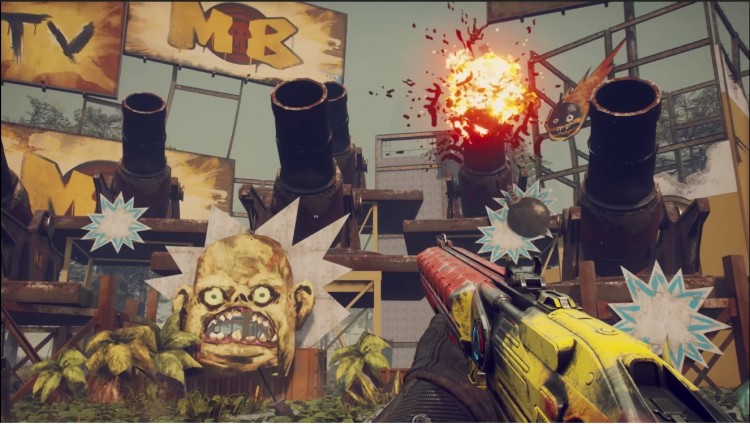 Bethesda and id Software's Rage 2 is all the rage right now since the developers are excited about their new game sequel. This time around, a new trailer has been revealed soon after the short live-action teaser trailer for the game and it is everything post-apocalyptic genre fans expected -- a crazy and beautifully violent wild ride.
Bethesda, the publisher of the game, has officially unveiled what the game will look like in action. This came in the form of a gameplay trailer they uploaded to YouTube on May 15. Following the release of the trailer, it has gained more than 670,000 views at the time of writing and counting, thus showing the high anticipation for the sequel to 2010's Rage.
Like its predecessor, Rage 2 is a first-person shooter (FPS) and features commons FPS tropes and cinematic styles to engage the player. What sets it apart from the sea of other FPS games is that Rage 2 seems to have a more energetic and crazy style, both in its art and combat. Based on the trailer, it is reminiscent of the Borderlands games which are also post-apocalyptic FPS games but with a more cartoony style compared to Rage 2's realistic character models.
A little bit of backstory was also explained in Rage 2's gameplay trailer, with the mention of an asteroid that hit the earth and ruined all existing civilizations. As usual in scenarios like this, mankind reverts back to its primal instincts and form tribes to survive whose leaders are usually the most powerful and capable.
Bethesda also boasted that the two developers involved in the game, id Software and Avalanche Studios, are both masters of game development in their own respective genres and disciplines. Hence, Bethesda proudly claims that Rage 2 is more than just an AAA game title since it was a collaboration of two AAA game developers. As a joke, Bethesda claimed that Rage 2 is actually an AAAAAA game title, with double the quality and awesomeness presumably.
Bethesda's last project with id Software was 2016's Doom and was met with much critical and player acclaim as an exceptional FPS. Fans can expect the same level of dedication of id Software and Bethesda to Rage 2.
Despite all this excitement stirred up by Bethesda with their official trailer for Rage 2, the game's release date is nowhere near yet. The developers have not announced a specific date and stated that the sequel might come out in the Spring of 2019 which may as well be a year from now, quite a long wait. Rage 2 will be available on the PC, Xbox One, and PlayStation 4.
© 2019 Korea Portal, All rights reserved. Do not reproduce without permission.