'Westworld' Season 2 Episode 5 Spoilers: 'Akane No Mai' Episode To Feature Maeve In The Shogun World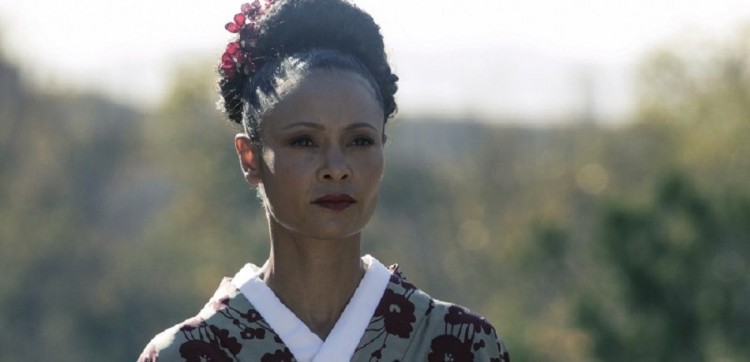 The long wait for the Samurai-themed world in Westworld is almost over. The upcoming episode of Season 2 will finally reveal the most theorized concept for Season 2 of the HBO drama.
The highly-anticipated world of the samurai is finally arriving in the fifth episode of the second season. The Shogun World was first teased in the debut season of Westworld when Maeve (Thandie Newton), Hector (Rodrigo Santoro), and Lee Sizemore (Simon Quarterman) stumbled across the Shogun World lab at the Delos headquarters.
Since then, fans have been speculating that it could be one of the new themes in the park come Season 2. True enough, the Shogun World will continue the focus of Season 2 Episode 5, and it will feature one of the main characters in the series-Maeve (Thandie Newton).
On her quest to find her daughter, Maeve will discover a new world in Episode 5, titled "Akane No Mai," which is roughly translated to "Akane's dance." Details about the episode have been scarce but based on the official trailer, it seems like Maeve, Hector, and the rest of her gang will get caught up in a host narrative in the new world.
HBO has already released some character photos for Episode 5. In both the photos and trailer, Maeve is seen clad in a kimono. The teaser also suggests that Maeve will attempt to liberate the hosts in the Japanese-themed park as she was seen holding a katana with blood splatters on her face.
"I think I'm finding a new voice. Now I use it," Maeve said in the teaser.
Will Maeve find her daughter in the Shogun World? Although the trailer is centered on Maeve, it also gives a glimpse of Dolores (Evan Rachel Wood). She is seen in the teaser warning someone that to grow, they need to suffer. It is not clear, however, who is she talking to but it is most likely it is Teddy (James Marsden).
Westworld fans have also seen Hiroyuki Sanada and Rinko Kikuchi in the trailer. Sanada plays the role of Musashi while Kikuchi portrays Akane. Musashi was first seen towards the end of Episode 3.
The Shogun World is the second world that Westworld fans have seen so far in Season 2. The Raj world, which is based in colonial India, was revealed in a previous episode.
Meanwhile, the recent episode of Westworld Season 2, titled "The Riddle of the Sphynx," revealed that Delos was running a secret program that attempted to implant real human's downloaded minds into hosts. The experiment, however, has limited success so far.
Westworld Season 2 airs Sundays at 9 p.m. on HBO. Episode 5 will run for a full 60 minutes.
© 2019 Korea Portal, All rights reserved. Do not reproduce without permission.