BTS' Drops New Track 'Fake Love' Teaser; Mind-Boggling Clip Sparks Questions About Jungkook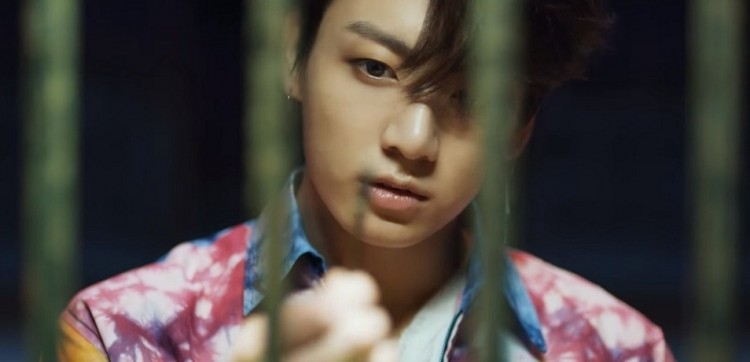 BTS has dropped a teaser for its upcoming single "Fake Love." It already garnered two million views on YouTube since the release on Monday. However, more than the fans excitement of the new track from the leading boy band in South Korea, many are also wondering what happened to Jungkook in the teaser.
The mind-boggling clip is full of symbolism. It starts with a phrase "'Magic Shop' is a psychodramatic technique that exchanges fear for a positive attitude." Then it features each member of BTS, except for Jungkook, approaching a mysterious man inside the magic shop to exchange an item for something.
Jungkook, on the other hand, looks anxious when he arrives in the place. When he approaches the shop's window, the mysterious man in a black cloak offered him a golden key without giving anything in exchange.
Jungkook then used the key to open a room with six coat stands and the man in the shop. BTS fans are asking-does Jungkook give himself up? Did he trade his own life because he fears himself? It can also be noticed that Jungkook wore a multicolored shirt when he entered the magic show. However, inside the dark room with the mysterious man, he wears torn clothes.
The Army can't wait for the entire "Fake Love" official music video. For now, you can watch the track teaser below.
BTS earlier revealed the tracklist for their forthcoming album Love Yourself: Tear, and it includes "Fake Love." The list has a total of 11 songs including the intro and outro tracks. The group also shared four sets of concept photos and the MV of "Singularity" featuring V. The new BTS EP is set to be released in Korea on May 18 at 6 p.m. KST and in the U.S. at 2 a.m. PDT/5 a.m. EDT.
The group has left Korea to attend the 2018 Billboard Music Awards on May 22. There were speculations that BTS will perform their new single "Fake Love" in the BMAs. Big Hit Entertainment, however, refused to confirm what song the group will sing in the awards night. This will be the first time a K-pop act will perform at the BMAs.
BTS is also scheduled to appear at The Ellen DeGeneres Show on May 25. The group's first performance in Korea will be aired in the BTS Comeback Show on May 24.
© 2023 Korea Portal, All rights reserved. Do not reproduce without permission.