BTS 2018 Billboard Music Awards: Jin, Suga, J-Hope, RM, Jimin, V, & Jungkook Ready To Leave K-Pop Career Behind To Be Hollywood Stars?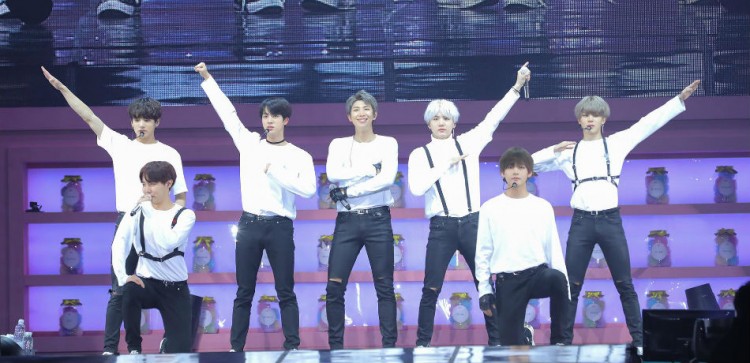 BTS is arguably one of the most successful K-pop bands in the Korean entertainment industry right now. With opportunities falling on their laps almost daily, it only makes sense that the Big Hit Entertainment boy group is finally ready to take over the world. But are they now giving up their K-pop careers to be Hollywood stars?
BTS members Jin (Kim Seok-jin), Suga (Min Yoon-gi), J-Hope (Jung Ho-seok), RM (Kim Nam-joon), Jimin (Park Ji-min), V (Kim Tae-hyung), and Jungkook (Jeon Jung-kook) were spotted at Incheon International Airport on May 14. It has been heavily reported that the seven-member South Korean boy band is leaving Korea for the states to perform at the 2018 Billboard Music Awards.
The BTS singers will be performing their new title track from the Love Yourself: Tear album at the event, which will take place at Las Vegas on May 20. As if that's not enough, Jin, Suga, J-Hope, RM, Jimin, V, and Jungkook are also set to appear for the second time on The Ellen DeGeneres Show.
BTS is one of those acts from South Korea who is welcomed by Hollywood with open arms. While some stars made an effort to audition to be a part of Tinseltown, Jin, Suga, J-Hope, RM, Jimin, V, and Jungkook were being invited to make an appearance in some of the most prestigious events and shows in Hollywood.
With the worldwide success of BTS, it appears that the next step for their career is to be in a more prominent platform, which is Hollywood. Although language is the most obvious hurdle, since only one member of the group can speak English fluently, it seems that Hollywood is not bothered by this at all.
The BTS boys know how lucky they are to be in the position that they are in right now. But even though they appreciate all the love and support from their fans all around the world, Jin, Suga, J-Hope, RM, Jimin, V, and Jungkook treasure their humble beginnings, and they are not going to leave Korea for Hollywood.
© 2023 Korea Portal, All rights reserved. Do not reproduce without permission.