Lovelyz 2018 News: Baby Soul, Jiae, Jisoo, Mijoo, Kei, Jin, Sujeong, Yein Admit Jokbal Helps Deal With Stress Over Upcoming BASTARZ Competition On 'Sugarman 2'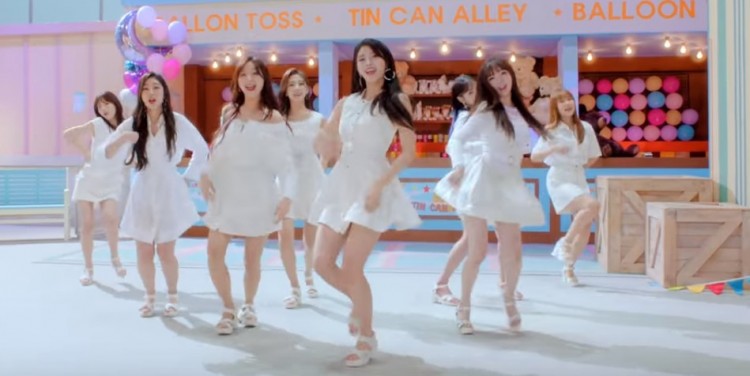 Being an idol certainly has its share of challenges, from non-stop promotions of their songs and getting through busy days. In addition to that, groups are usually being made to compete against each other in various TV shows. With that in mind, the members of Lovelyz have an exciting way to deal with stress, and it includes a generous amount of jokbal or pig's feet.
But why are Baby Soul, Jiae, Jisoo, Mijoo, Kei, Jin, Sujeong, and Yein feeling the pressure lately? The members of Lovelyz might be using comfort food to deal with the stress of having to compete with BASTARZ in an upcoming episode of Sugarman 2.
Four members of Lovelyz recently made an appearance at SBS Love FM's Kim Chang Ryul's Old School where they revealed that they "like to eat" and consume plenty of comfort food to "heal" themselves. Jiae, Jisoo, Yein, and Kei admitted that in addition to jokbal, they also love eating chicken, spicy chicken feet, and soft pork bone. According to Soompi, the DJ was taken aback by the revelation since he didn't expect the girls to consume gamjatang on a regular basis. "Are you guys really idols?" he asked the girls.
They might like their jokbal and gamjatang, but the Lovelyz idols can still manage to keep themselves in shape. Yein, Kei, Jisoo, and Jiae also shared that they can eat whatever they want since they can always keep the pounds off through their dance routines.
So what exactly has been making the Lovelyz members feel so much pressure that they have been stress-eating? There are speculations that Jiae, Jisoo, Mijoo, Baby Soul, Kei, Jin, Sujeong, and Yein are concerned about their upcoming appearance in Sugarman 2 where they will go up against BASTARZ. In addition to performing their songs, the idols will also be doing covers of classic Korean hits in the TV show, as per AllKPop.
Can Lovelyz defeat
BARSTARZ
in the highly anticipated next episode of
Sugarman 2
? Fans are confident that Jisoo, Jiae, Baby Soul, Kei, Mijoo, Jin, Yein, and Sujeong will easily win with their single "That Day." Hopefully, the idols can get enough comfort food for their performance.
© 2023 Korea Portal, All rights reserved. Do not reproduce without permission.