BTS News: LG Drops LG G7 ThinQ Promo TVC & Posters Featuring The Bangtan Boys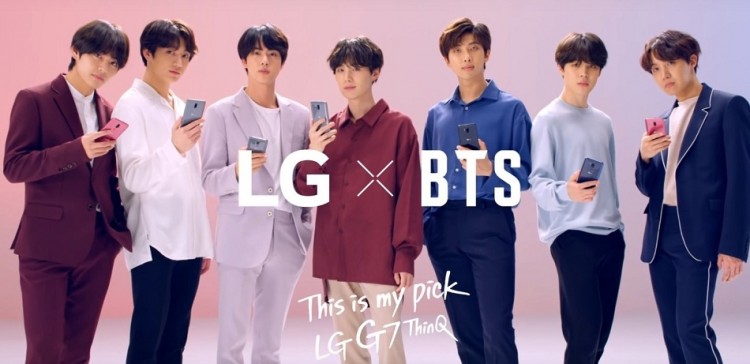 LG Mobile dropped the latest TV commercial and posters for its new G7 ThinQ featuring BTS. The members of the Korean boy band can be seen in both promo materials sharing the cool features of the new smartphone.
LG recently announced that it had chosen the Bangtan Boys as the new face of LG smartphones because of the band's popularity around the world. The seven-piece K-pop act will appear in all global ads for the G7 ThinQ smartphone.
In the latest promo materials, each BTS member teases the cool features of LG's new flagship phone. The boys highlighted the seven amazing features of G7 ThinQ that they love to use. The new LG G7 ThinQ TV commercial begins with all of the BTS members endorsing what they like about G7.
Jungkook loves the Super Bright Display which users can activate to its peak for three minutes. RM enjoys listening to the Boombox Speaker. Suga likes the G7's Super Far-Field Voice Recognition feature which he can use without moving even a single muscle.
Jin, on the other hand, loves the LG new smartphone's AI Cam. The G7 features a huge 6.1-inch display with a 3,120 x 1,440 resolution. V finds the Super Bright Camera feature very useful for taking pictures even in the dark.
J-Hope can't stop taking pictures with his bandmates using G7's Super Wide Angle Camera. The G7 has a dual rear-facing camera that also includes two sensors: a 16-megapixel primary sensor and a 16-megapixel secondary wide-angle sensor. The front, on the other hand, is equipped with an 8-megapixel camera.
Finally, Jimin enjoys using the Google Lens button which can be double-pressed to activate vision recognition. The new LG flagship phone also has a button called the AI Key which can be used to access Google Assistant.
The LG G7 ThinQ will official dropped on May 18. LG hasn't offer pricing details as of yet, but it did mention that buyers could expect their latest phone to be at the same price as the G6 or about $600 (645,500 won) to $700 (753,056 won), depending on carrier.
The pre-orders will begin on May 11. Buyers will also receive BTS packages which include a cell phone case with the BTS logo and other accessories. LG has stressed that the release date, specs, and back cover logo of the LG G7 ThinQ may vary by country.
The latest LG G7 promo materials of BTS came a few days after Coca-Cola released its latest posters for its 2018 FIFA World Cup ad campaign featuring the Bangtan Boys. The K-pop act also dropped two sets of photos for their upcoming new album Love Yourself: Tear.
© 2019 Korea Portal, All rights reserved. Do not reproduce without permission.