BTS Done Filming Music Video For 'Love Yourself Tear' Title Track; Organizers Added Additional Date To Their Sold Out Concert Tour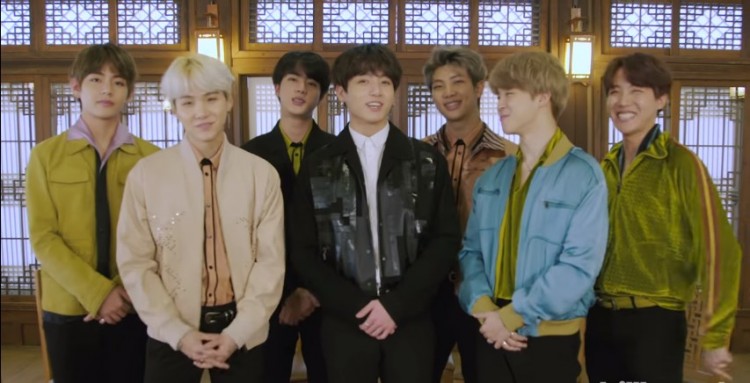 In just 10 days, fans will finally see the release of BTS' comeback album, Love Yourself: Tear. In fact, there are new reports saying V, Suga, Jin, Jungkook, RM, Jimin, and J-Hope already finished filming their title track's music video.
In an exclusive report by OSEN, per All Kpop, BTS is said to have finished filming the music video for Love Yourself: Tear's title track on Sunday, May 6. It has been said the boys and their agency's, BigHit Entertainment, associates spent a number of days to finish the MV's production.
It looks like fans have to wait to see the official release of the said music video as the result of BTS' hard work is reportedly outstanding. Aside from their much-awaited return, V, Suga, Jin, Jungkook, RM, Jimin, and J-Hope are also preparing for their much-awaited performance at the upcoming 2018 Billboard Music Awards on Sunday, May 20.
Here, BTS will unveil Love Yourself: Tear's title track for the first time. On the other hand, the album is set to be released on Friday, May 18. As a matter of fact, the group has been teasing their imminent return with the release of their new song's music video, "Singularity," which surprised the fans.
In the clip, BTS member V, also known as Tae-Hyung, can be seen singing and dancing without the group's other members, but with some backup dancers. In the next scene, he is surrounded with white masks. At the end of it, he can be seen wearing this white mask while a black tear drops from his left eye.
Meanwhile, fans will still have a chance to see BTS in the upcoming world concert tour, although most dates are now sold out. After the ticket sales over the weekend got sold out instantly, the concert organizer, Powerhouse Live, added a fourth date to their Los Angeles concert, which will happen on September 9, Metro reported.
It has been said there are scalpers who are now selling BTS concert tickets for a whopping $1,000 to fans who want to see them. The event's organizers are trying to control this move by adding new dates to the group's much-awaited concert tour. In a few days, the tickets will next go on sale in Oakland, Chicago, and Hamilton.
© 2023 Korea Portal, All rights reserved. Do not reproduce without permission.
Tags:
BTS
,
Love Yourself: Tear
,
V
,
Suga
,
Jin
,
Jungkook
,
RM
,
Jimin
,
J-Hope
,
Singularity
,
Tae-Hyung
,
2018 Billboard Music Awards