Song Hye Kyo 2018: Song Joong Ki Wife Returns To Work With New Advertisement, 'Descendants Of The Sun' Star Gets Justice For Privacy Invasion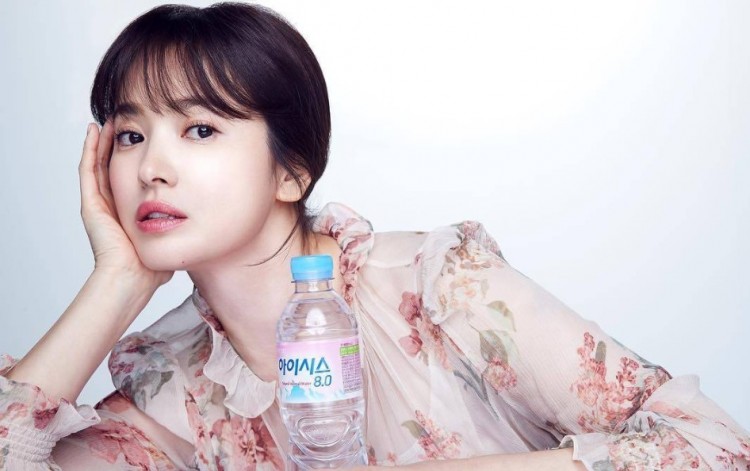 It might finally be time for Song Hye Kyo's highly anticipated comeback. The Descendants of the Sun actress has just shared a new photo promoting Icis 8.0, the water brand she has endorsed for several years. Not surprisingly, Song Joong Ki's wife looks stunning in her new commercial.
The new advertisement for Icis 8.0 might only be one of Song Hye Kyo's recent successes. The Descendants of the Sun star may have also found some form of justice with thanks to the Korea Communications Standards Commission (KCSC), who has issued an official warning to Section TV for violating the privacy of Song Joong Ki's wife.
Song Hye Kyo has just posted a beautiful new picture on her official Instagram account. The image appears to be taken from a recent photo and video shoot for Icis 8.0, the water brand Song Joong Ki's wife has endorsed since 2013. The new pic has a noticeable pinkish hue since the brand has continuously emphasized on "pink light energy" in most of the Descendants of the Sun star's commercials.
The Descendants of the Sun actress has also posted an Icis 8.0 commercial on Instagram. Not surprisingly, the advertisement puts the focus on Song Hye Kyo's healthy glow, somehow confirming that her marriage to Song Joong Ki agrees with her. Hopefully, the new ad is a hint that the actress will work on TV and films in the near future.
Song Hye Kyo might be careful with what she shares on social media but that hasn't stopped the press from trying to learn more about her personal life. Luckily, fans of the Descendants of the Sun star came to her aid. Back in June 2017, her followers defended Song Joong Ki's wife after Section TV featured some posts from her Instagram account.
In April this year, the KCSC finally sent the TV show an official warning for invading the actress' privacy, as per AllKPop. After receiving the official recommendation, Section TV producer Choi Won Suk has made a public apology to Song Hye Kyo, her Descendants of the Sun co-star Song Joong Ki as well as their fans.
© 2023 Korea Portal, All rights reserved. Do not reproduce without permission.