'Outlander' Season 4 Actress Caitriona Balfe Teases Sam Heughan With Food As Co-Star Takes On Stirling Scottish Marathon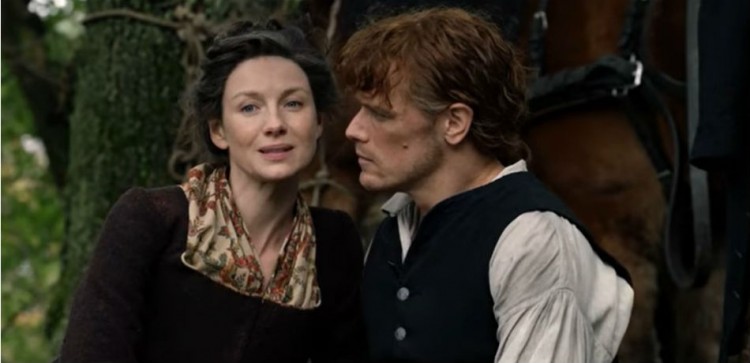 There is little doubt that working on Outlander for several years has led to a close bond between Caitriona Balfe and Sam Heughan. After all, the chemistry between the two is evident in all the scenes involving Claire and Jamie Fraser. Not surprisingly, the actors continue to joke with each other although they are not yet filming for Outlander Season 4.
Sam Heughan has already proven that he is a force to reckon with when it comes to his TV show as well as in athletics. The Outlander Season 4 star had participated in the recent Stirling Scottish Marathon and asked his fans for support. His co-star Caitriona Balfe immediately responded to the social media post with a compelling motivation for the real Jamie Fraser.
According to Just Jared, Sam Heughan posted a quick selfie right before the marathon began on April 29. The Outlander Season 4 actor added a quirky caption to his Twitter post asking if it is "too late to go back to bed" instead of running the Stirling Marathon. Nevertheless, Heughan still asked his followers for their support. One of the first responses to the tweet happened to be an excellent message from Caitriona Balfe herself.
Is it too late to go back to bed? Wish us luck! pic.twitter.com/ueqSAf4czC — Sam Heughan (@SamHeughan) April 29, 2018
Caitriona Balfe immediately wished her Outlander Season 4 co-star luck and offered a genuinely compelling motivation. Balfe urged Sam Heughan to merely think about tacos. Needless to say, the real Jamie Fraser was thoroughly motivated as he completed the Stirling Marathon.
Good luck!!!! Just think https://t.co/j2WHXwCUil — Caitriona Balfe (@caitrionambalfe) April 29, 2018
Caitriona Balfe was not the only one who gave Sam Heughan some motivation. Diana Gabaldon also tweeted her support, adding that "there's a bathtub full of beer with [Heughan's] name on it." The author certainly knows the stars of Outlander Season 4 very well.
Sam Heughan and Caitriona Balfe may still be busy doing their own thing before Outlander Season 4 begins production. However, fans already have their hopes for the new season of the Starz show. Some are hoping that the fourth season will feature more emotional scenes between Claire Fraser and her daughter Brianna.
The Outlander Season 4 air date has not yet been announced. However, the series is expected to return to Starz later this year.
© 2023 Korea Portal, All rights reserved. Do not reproduce without permission.