Girls' Generation's Hyoyeon Reveals Why She Changed Her Stage Name To DJ Hyo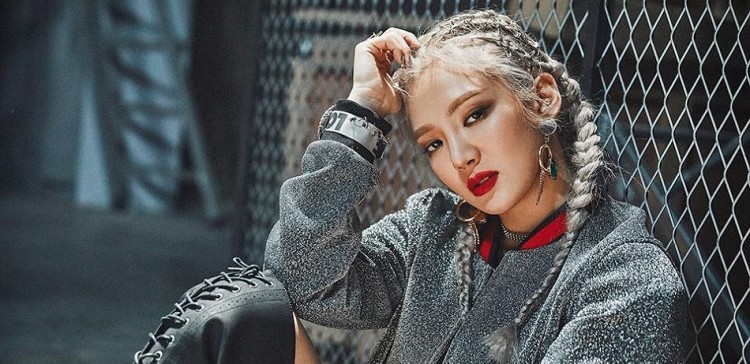 Girls' Generation Hyoyeon had decided to change her stage name to "DJ Hyo" because of a very important factor—it's for her fans all over the world.
In an appearance with MBC FM4U show 2 O'Clock Date, DJ Ji Suk Jin asked Hyoyeon why she decided to go by the name DJ Hyo for her solo comeback. The K-pop idol explained that it is because her international fans have trouble pronouncing "Hyoyeon."
"It almost sounds like Yo-nyeon (a curse word) so I decided to go by Hyo," she said (via AllKPop).
Hyoyeon (whose real name is Kim Hyo-yeon) said she would be focusing on the EDM genre as DJ Hyo. SM Entertainment said Hyoyeo would be promoting her latest solo single, titled "Sober," in domestic club tours and EDM festivals under her new name.
Hyoyeon has been interested in DJing and EDM for a long time. She previously appeared in SBS MTV show Mash Up in 2015. The program contains EDM challenges on K-pop stars, EDM festivals, and more.
Why Korean Celebrities Change Their Screen Names
Celebrities all over the world change their given name to more recognizable names mainly for recall. Most Koreans have three-part names. Many film, TV, and music artists in Korea opted to use two-syllable stage names instead of their usual three-part birth names because of the very same reasons as other stars abroad.
Some of the prominent Korean artists who opted to change their birth name to a shorter stage name are Coffee Prince and Goblin actor Gong Yoo (real name Gong Ji Chul), My Name Is Kim Sam-soon actor Hyun Bin (real name Kim Tae Pyung) and Kill Me, Heal Me star Ji Sung (born Kwak Tae Geun). The Man From Nowhere actor Kim Do Jin is better known as Won Bin, while best actress Soo Ae's birth name is Park Soo Ae.
DJ Hyo's New Single "Sober"
The Korean singer made her solo comeback this week with "Sober." The song is all about all being yourself and independence. DJ Hyo's new song features some electric guitar reef and hooks in a tropical futuristic genre.
The song had peaked at No. 1 on iTunes' singles chart in 11 countries. DJ Hyo has also dropped the music video for the track featuring Ummet Ozcan.
As a solo artist, Hyoyeon has proven her talent. She previously released her first solo single "Mystery" in 2016. "Sober" is Hyoyeon's follow up to her second single "Wannabe" in June 2017. Unlike "Sober," "Wannabe" is a pop dance song featuring rapper San E.
Dj Hyo's new single is available in both Korean and English language versions. Hyoyeon's improvement in the English language is evident in the English version of "Sober." The K-pop idol improved her language skills when she appeared tvN show My English Puberty in 2017. The show featured six celebrities who took the challenge of learning the English language for eight weeks.
© 2019 Korea Portal, All rights reserved. Do not reproduce without permission.