Korean Singer Roh Ji Hoon & Model Lee Eun Hye Get Married; K-Pop Singer Shares Photos In Wedding Attire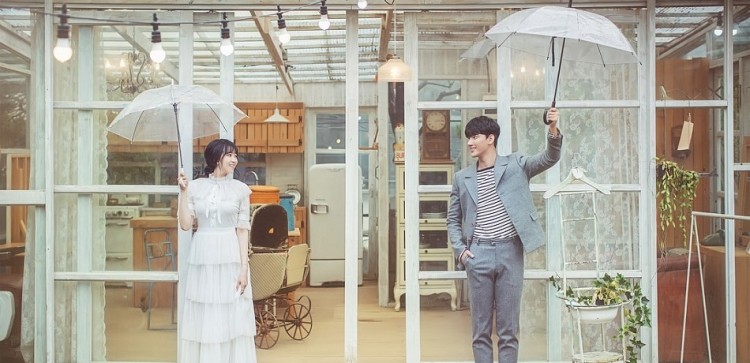 It looks like Korean celebrities Roh Ji Hoon and Lee Eun Hye are already married. This week, the two confirmed that they are exchanging "I dos" very soon. Speculations that it could be on May 19 emerged after Roh shared a photo on Instagram on what seems to be a wedding invitation in which the date "May 19, 2018" was written on it.
Lee Eun Hye earlier revealed on a video clip posted on her YouTube account that she and Roh Ji Hoon are tying the knot soon. When asked by a fan why they decided to get married so early, Lee admitted that she is pregnant. The video featured Roh singing and some of their photos together.
Lee also shared a couple of beautiful photos of her and Roh on her Instagram account. She also posted a picture of a bouquet of flowers and a sweet card from her fiancé.
"The last woman of my life is really you...it feels like a dream. Let's live a happy life! I love you," Roh wrote in the card.
Roh Ji Hoon & Lee Eun Hye Wedding Date
On Thursday, Roh shared a photo of what looks like a wedding invitation. The date "May 19, 2018" is written on it, which makes fans speculate that they are getting married on that day. However, the K-pop singer also shared a few minutes ago some photos of him and Lee, and they are wearing what looks like their wedding attire.
Lee is seen in a simple ivory lace dress, while Roh is sporting a black tuxedo. It is not clear if the photos were taken today or on a much earlier date but shared only today.
The couple did not reveal any details of their nuptials other than a hint of a wedding date. If speculations are true that the two already had their wedding, perhaps the couple had a private and intimate ceremony with their closest friends and family members.
Korean celebrities are known for keeping their personal lives very private, including their wedding ceremonies. It is very seldom that they reveal who they date or when they are getting married. Every now and then, fans get surprised with engagement and wedding announcements.
The latest of which is Lee Tae Im. The Lady In Dignity actress announced last month that she is retiring from the entertainment industry. Lee Tae Im's label also confirmed that the K-pop star is pregnant and that she is getting married to her non-celebrity fiancé after giving birth.
Roh Ji Hoon Reveals How He Met Lee Eun Hye
In a letter to their fans, Roh confirmed that he and his soon-to-be-wife are getting married next month. A day later, he shared a photo of their wedding invitation on Instagram. He thanked their fans for the support and love.
He also revealed some details on how love blooms between him and Lee. Roh said he first met his fiancée six years ago. They instantly became friends, but it was only late last year that they developed romantic feelings for each other. He added that he became a better artist and a great person as a whole because of Lee. Roh is optimistic that he and Lee will have a happy married life.
Roh Ji Hoon gained popularity as a contestant on MBC's Birth of a Great Star. He released his debut mini-album The Next Big Thing in November 2012. In 2014, he dropped his self-written single "A Song For You." The following year, Roh Ji Hoon made a comeback with his second mini-album, Feeling. One of the tracks in the album, titled "9월 7일," which means September 7, is dedicated to his close friend RiSe of Ladies' Code. RiSe died on September 7.
Earlier this year, Roh left his label Cube Entertainment before releasing his single "No Worries." As for Lee Eun Hye, she debuted as a model in F1 tracks in 2011.
© 2019 Korea Portal, All rights reserved. Do not reproduce without permission.