Winner 2018 Update: Song Min Ho Reveals Who Among Their Members He Will Introduce To Her Sister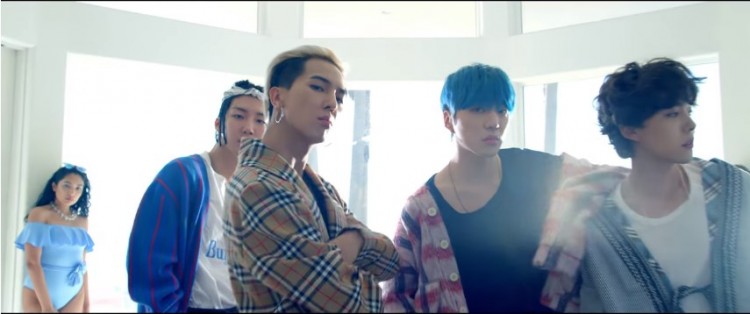 Winner graced the radio show Ji Suk Jin's 2 O'Clock Date on Wednesday, April 18, and talked about their group's earnings and more. However, what caught everyone's attention was when Song Min Ho was asked whom among his fellow members will he introduce to his sister.
Song Min Ho didn't make it be with Winner on Ji Suk Jin's 2 O'Clock Date, but he joined the show through a phone call. So, as one listener recalled he has a younger sister, he was asked who among Winner members, Kim Jin Woo, Kang Seung Yoon, and Lee Seung Hoon, will he let him meet her, per All Kpop.
"Not even one member," he said. When DJ Ji Suk Jin convinced him to answer, he finally gave in and said it probably would be Kang Seung Yoon. This comment made the latter happy, thus he joked Song Min Ho is now his friend and he will start to call him by his first name.
Song Min Ho has an explanation as to why he chose Kang Seung Yoon over the other Winner members. He said as Lee Seung Hoon is older than him, he won't be able to control him. On the other hand, Kim Jin Woo is prettier than his sister, and also older than him. So, Seung Yoon felt like he was the last option as he would be the easiest one to deal with among them.
Meanwhile, Winner also talked about being Kang Seung Yoon's musical genius. "I don't think so," he humbly said. However, his bandmates insisted he is very hard working. In fact, he has written a lot of songs. They even joked that if he made about 100 tracks, a few of them would surely be big hits, Soompi reported.
Talking about the royalties he is earning, Kang Seung Yoon said it is enough for him to live. The Winner member even described it as enough for him to buy a car within a year. However, he doesn't have a car so he doesn't know how much it will cost him.
Teasing about who among the Winner members has the highest earnings, the group pointed to Song Min Ho. This made Lee Seung Hoon laugh out loud as he revealed Min Ho never treated them to free meals that often. In fact, it is Kang Seung Yoon who always treats his band members. However, he defended Min Ho by revealing he often gives them small gifts.
© 2023 Korea Portal, All rights reserved. Do not reproduce without permission.