'iKON TV' Teaser Released, Watch iKON & Celeb Five Members Crashing Each Other In The Teaser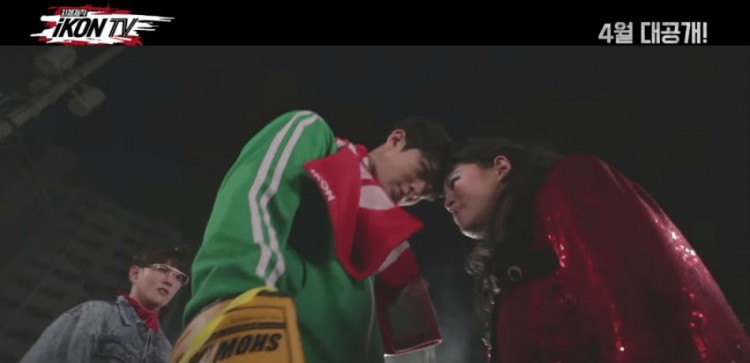 iKON is all set to get their first reality show! After successfully releasing the second studio album titled Return, the South Korean boy band has finally released the first teaser video for their much-awaited (first) reality show "iKON TV."
The teaser shows a battle between two groups
The newly released teaser for "iKON TV" shows each member - Jinhwan, Bobby, Ju-ne, Donghyuk, Yunhyeong, Chanwoo, and B.I. - dressed up in hilariously typical attires. They are shown confronting and fighting the comedian girl group Celeb Five.
The guys having an unwavering glint in their eyes face the girl group, whose members are five comediennes Kim Shin Young, Shin Bong Sun, Ahn Young Mi, Song Eun Yi, and Kim Young Hee. The teaser gives a small hint of a fierce battle that is going to take place between the two groups.
The credit goes to iKON members for planning and executing the video
The official title of the show is "Self-produced iKON TV." The teaser video also revealed the exact date of its first episode before its closing. It will release its first episode on Saturday, April 21 (at 10 pm KST) through Naver V Live and YouTube. The newly released first teaser video is systematically planned and executed by iKON's seven members.
Lots more unexpected things to come in future
Other reports revealed that the members had several funny and great ideas to implement in the making of this teaser video. However, they would gradually implement their unique funny ideas in the upcoming episodes. They believe that their avid followers will be able to see another side of their band through the reality program.
"I have never seen a reality show as script-less and unplanned as this one!" one of iKON's boys, Donghyuk is observed shouting. This makes their fans curious to know what the boy group has in store for them, as reported by Soompi.
Formed by YG Entertainment in 2015, the group won several best awards including QQ Music Awards, Japan Record Awards, and Mnet Asian Music Awards to name a few. Never miss the premiere of "iKON TV" on April 21 at 10 pm KST. Stay tuned to Korea Portal to get the latest updates on iKON and other K-Pop bands.
© 2019 Korea Portal, All rights reserved. Do not reproduce without permission.