'Bold And The Beautiful' Spoilers April 16-April 20: Liam Chooses Hope, Steffy Is Devastated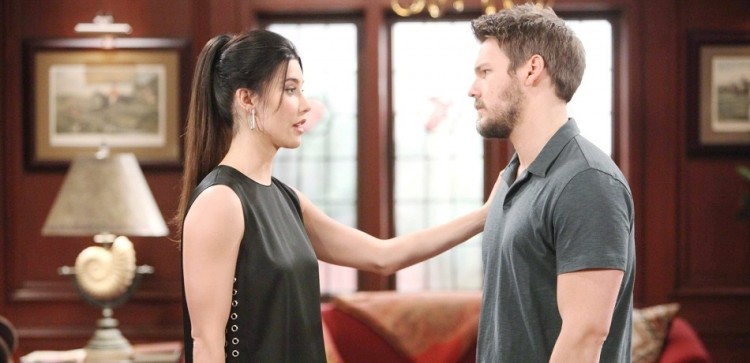 Liam will have serious thinking to do this week in The Bold And The Beautiful. It will be focused on his relationship with his father and his wife. Steffy will be on his side all throughout this challenging time, but he will find out the truth about her and his dad. By the end of the week, Liam will choose the woman he thinks is the best for him.
B&B

April 16 Episode

Taylor (Hunter Tylo) is coming back, and it means trouble to everyone else. Steffy (Jacqueline MacInnes Wood) vows to stand by Liam (Scott Clifton) through this emotional breakdown. Steffy doesn't believe that Liam shot his father and she is determined to find out the truth.

Bill (Don Diamont) insists that Ridge (Thorsten Kaye) is not the shooter. Ridge has doubts about why Bill cleared his name. The latter may have kept him out of jail, but Ridge knows that Bill is planning something else. Brooke (Katherine Kelly Lang) is also worried that there is something significant coming their way, courtesy of Bill. Brooke and Ridge want to know what Bill's in motive in clearing Ridge's name.
B&B

April 17 Episode

Steffy is committed to protecting Liam from his father's threat of prison. Spoilers indicate that Steffy will ask a favor from her father-in-law, Bill, who knows that it was Steffy's mom, Taylor, who shot him. He has no plan to do what Steffy asks him as it will only help her get back with Liam. He knows that he can use this to leverage the information that it was Taylor who shot him.

Liam is feeling the strain from both Steffy and Hope pressuring him to choose one of them. Hope is hurt when Liam tells her to leave him alone to think.
B&B

April 18 Episode

Bill assures Steffy that he will do what she asked of him. However, knowing Bill, he has no intention of standing by his word. Bill wants Liam to choose Hope instead of Steffy so the latter will be his.

Steffy informs Liam that she can influence his dad. Liam is grateful that Steffy is accepting him. He lets Steffy know how much her loyalty means to him. Steffy is confident that she is about to win her husband back, unaware that Bill's blackmail plan is still in effect.
B&B

April 19 Episode

Bill finally admits to Liam that he slept with Steffy. Liam needs to reevaluate how he feels about his dad and most especially, about Steffy. Elsewhere, Hope confides to Maya (Karla Mosley) about her feelings for Liam. Maya is shocked to learn that Hope wants to take Liam from Steffy. Maya thinks of a plan.
B&B

April 20 Episode

Hope reiterates to Liam that she wants to be with him. She wants to take him away from Steffy and Bill. Spoilers indicate that Hope will ask Liam to move in with her and he will say yes. Steffy will be devastated, while Bill is rejoicing.

Meanwhile, Katie Logan (Heather Tom) admits to Brooke that she and Wyatt Spencer (Darin Brooks) called off their engagement because of Bill. However, Katie also confesses that she is still secretly seeing him on the sly. The Bold And The Beautiful airs weekdays on CBS.

© 2019 Korea Portal, All rights reserved. Do not reproduce without permission.