Netflix's 'Busted!' Drops First Teaser; EXO's Sehun and Cast Start Solving Mysteries Next Month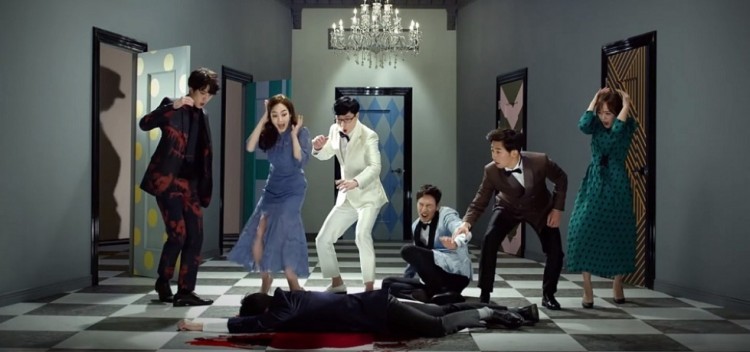 Netflix has dropped the first ever teaser for the upcoming Korean variety show, titled Busted! The trailer features the cast members of the show Yoo Jae Suk, Lee Kwang Soo, Park Min Young, Ahn Jae Wook, Kim Jong Min, and K-pop idols Gugudan's Kim Sejeong and EXO's Sehun.
The teaser of the new mystery variety show offers a glimpse of the cast working together on a crime scene. The cast members are seen using their detective skills as they search a crime scene for clues. Additionally, Lee Kwang Soo delivers some laughs with his dance moves and bickering with Running Man co-star Yoo Jae Suk. The detectives were also shown wearing some sharp-looking detective clothes, including the iconic Sherlock Holmes hat on Yoo Jae Suk.
Moreover, Netflix has released a teaser poster for the debut season of Busted! It shows the all-star cast of the K-variety show in shock after seeing a bloody body in front of them.
Everything You Need To Know About Netflix's Busted!
The series, also called Busted! I Know Who You Are, follows seven novice and clumsy celebrity detectives as they attempt to solve fictional crimes. Netflix guarantees hilarious episodes each week by adding a twist to each mystery. Young K-pop idols Sehun and Kim Sejeong are expected to bring their vibrant energy into the fun-filled mystery solving show.
The non-scripted series will run for a total of five weeks with two episodes each week. It will also feature a special guest each week who will work together with the seven celebrity detectives to solve mysteries.
Busted! is not the first Korean TV show on Netflix. The streaming giant has been releasing several Korean movies and TV shows for years. The list includes the hit variety show Knowing Bros, the movie Train to Busan, and K-dramas such Descendants of The Sun and Boys Over Flowers. However, Busted! is Netflix's first Korean original variety program and also the first investigative variety show in the country.
Busted! is produced by Netflix in association with Korea's SangSang, who also produced hit Korean shows such as Running Man, Family Outing, and X-Man. This is SangSang first season-based variety show.
Busted! is set to premiere in 190 countries on May 4 on Netflix. The streaming network currently has 117 million subscribers around the world.
© 2022 Korea Portal, All rights reserved. Do not reproduce without permission.