MAMAMOO's Moonbyul Films Solo Track MV With BFF Red Velvet's Seulgi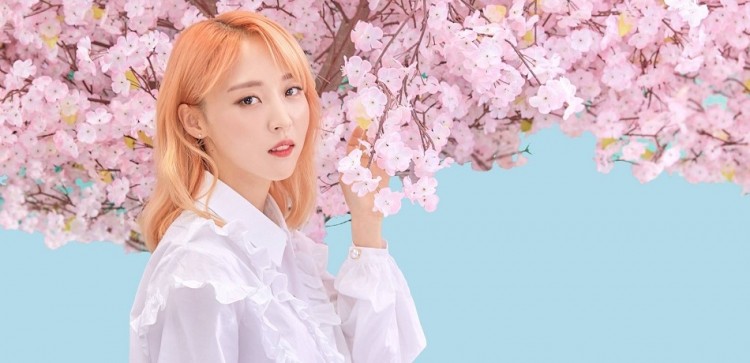 MAMAMOO's Moonbyul has started the filming of a music video for her upcoming solo album and it features her friend, Red Velvet member, Seulgi. The two were spotted filming the MV recently.
Earlier this year, MAMAMOO's agency RBW Entertainment confirmed that Seulgi will be featured in Moonbyul's solo track. Around the same time, Seugli participated in the recording of the song.
Reports indicated that Moonbyul's solo single was originally planned to be included in MAMAMOO's new album, Yellow Flower. Later on, it was decided to be released as Moonbyul's official solo debut track.
There have been rumors that the Moonbyul's solo single will be out in May. However, Soompi quoted a source from RBW who confirmed the music video filming but not the release date of the Moonbyul solo track.
"She filmed a music video with Red Velvet's Seulgi, but the exact release date has not been determined yet," the source said.
MAMAMOO's Moon Byul And Red Velvet's Seulgi's Friendship
The two K-pop idols have been close friends for quite a while now. They worked together in the KBS show Idol Drama Operation Team in 2017. The duo were both invited to join the show along with five other members of K-pop girl groups. Their task was to write their own K-drama series. They also acted in an autobiographical drama titled Let's Only Walk The Flower Road, that they created.
Moonbyul and Seulgi kept in touch and became close friends after the show ended. Coincidentally, one of Moonbyul's sisters is named Seulgi.
Moonbyul and the rest of MAMAMOO released their sixth mini album, Yellow Flower, on March 7, 2018, and its lead track, "Starry Night." The K-pop group also dropped the MV of their latest song, "Everyday," off the same album.
Meanwhile, Moonbyul's bandmate, Wheein is also set to release her solo debut album on April 17. She dropped the first promo photo and teaser video for her upcoming album titled Easy. Meanwhile, bandmate Solar will be having her first solo concert later this month.
As for Seugli, she has had several collaborations in the past, mostly in soundtracks of K-dramas. She hasn't had a solo album or single yet.
Seulgi recently joined her bandmates in a concert in North Korea. Late last month, the group also announced that they will officially debut in Japan in July with the release of a new song.
Red Velvet's most recent full-length album "Perfect Velvet" was released in November 2017. It was repackaged and released with the title "The Perfect Red Velvet" earlier this year. Its title track "Bad Boy" debuted at No. 2 on the World Digital Songs chart.
© 2019 Korea Portal, All rights reserved. Do not reproduce without permission.