EXO-CBX Drops 'Blooming Day' MV; K-Pop Group's Hair Color And Eyes Caught Fans Attention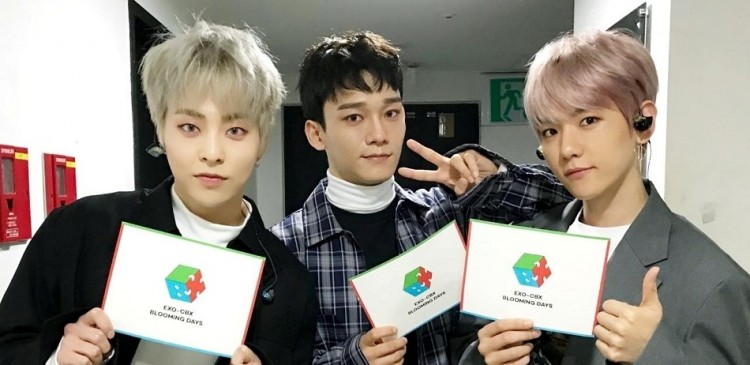 The wait is over for EXO-CBX fans. The EXO sub-unit has dropped its new album and the music video of its title track, "Blooming Day." Fans are entertained by the new MV and they also took notice of Xiumin, Chen, and Baekhyun's looks in the video.
EXO-CBX released its Blooming Days comeback album on Tuesday along with the music video for the title track of the same title. The "Blooming Day" MV highlights the funky R&B-styled vocals of Chen, Baekhyun, and Xiumin. It features a multi-colored and flower-decorated world for the trio to interact with as they reflect on how to express their love through the different days of the week. It also showcases some dynamic dance moves from the group as they sway to the lyrics - such as "Can I be your boyfriend, can I?"
Blooming Days is CBX's second mini album and a follow up to their 2016 chart-topping EP Hey Mama!. It has seven songs that represent each day of the week. So far, the "Blooming Day" MV has been viewed by over 3.2 million viewers on YouTube.
EXO-CBX Hair Color And Eyes In "Blooming Day" MV
Spring is everywhere in the EXO-CBX new music video. The group shows some major spring looks in their new video. From the floral background to the hair and makeup of the K-pop idols, it was carefully executed to reflect the season.
Chen is heating up spring with his fiery look. He is seen in terracotta shadow with a subtle red lip color that perfectly matches his red suit. It can also be noticed that Chen has a straight brow in a couple scenes of "Blooming Day."
Xiumin, on the other hand, makes the sunny look more refreshing with a soft shade of goldenrod over his upper lids. The K-pop idol also wears a shimmering champagne shadow with a bit of brown eyeliner to finish her smokey eyes look. He is also seen in exaggerated violet shadow over both the upper and lower lids.
As for Baekhyun, he is featured in some scenes sporting a silvered lavender eyeshadow that makes his brown eyes stand out. A neutral pink lip finished his look. Baekhyun was also seen with a touch of shimmering bronze shade across his upper lid and deep aubergine shadow dusting into the outer corner of his lower lash line.
Meanwhile, there are some fans who are quite disappointed for not seeing different hair hues in EXO-CBX's "Blooming Day" MV. Baekhyun was expected to show up in the clip in his famous flamingo pink hair and Xiumin in blue. However, the hair color of the two CBX members remains blonde throughout the video, while Chen sportsan auburn hair that complements his looks in the video.
© 2023 Korea Portal, All rights reserved. Do not reproduce without permission.