Netizens Stunned With EXID's Hyerin Statement About Not Dating MONSTA X's Minhyuk; Fans Defend Female Idol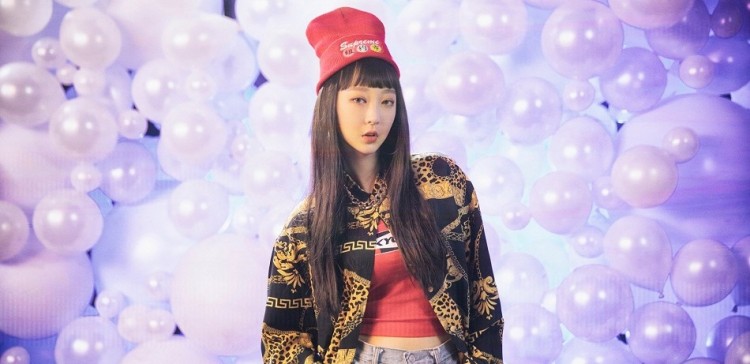 Many netizens were surprised by EXID's Hyerin statement denying that she is dating MONSTA X's Minhyuk because it is entirely new to them. Apparently, only a few people knew that there was a dating rumor between the two until Hyerin talked about it.
The EXID member recently made a statement that many don't expect. During the pre-recording of SBS MTV's The Show, Hyerin reportedly grabbed the mic on stage and made an announcement about Minhyuk.
"There are MONSTA X fans here, right? I've got something to say ... I'm not dating Minhyuk," she said on stage.
Some MONSTA X fans slammed Hyerin for making a big deal out of a rumor. A staff member of The Show, however, clarified that Hyerin only brought up the subject because a fan asked her about it, Koreaboo noted. There were also reports that someone from the audience screamed at Hyerin and insulted her during the pre-recording, which prompted Hyerin to make a statement.
Hyerin is reportedly upset about the rumor that she and Minhyuk have been dating since they were trainees. The speculation apparently started when she congratulated him after his win in DRAMARAMA back in November 2017. Hyerin said she is just congratulating a friend.
Both Hyerin and Minhyuk grew up in the same neighborhood in Gwangju in South Korea. They have known each other since they began training to become K-pop idols.
The agencies of both Korean artists have also confirmed that Hyerin and Minhyuk are not in a romantic relationship. They stressed that the two are just good friends who knew each other even before they entered the entertainment industry. Hyerin's label, Banana Culture Entertainment, said the singer just wanted to clarify things so that her fans will not misunderstand the news that they hear.
EXID Fans Defended Hyerin
Some netizens commented on a K-pop community forum that this is the first time they heard of the dating rumors between the two idols. This makes Hyerin's statement seem to be an unexpected revelation. Apparently, Hyerin has been suffering from harsh comments on her social media accounts by people who created the false information.
EXID fans defended Hyerin's action. They said the singer was only forced to comment because of all the nasty comments she has been getting.
"She's been getting hate comments for this for years. How can her statement be TMI? Even if fans didn't know, she shouldn't be criticized for clarifying a rumor that she's been having a difficult time with," one fan wrote.
EXID is currently promoting their new song "Lady." MONSTA X, on the other hand, is promoting the title track "Jealousy" of their new album The Connect: Dejavu.
© 2023 Korea Portal, All rights reserved. Do not reproduce without permission.