Gwen Stefani, Blake Shelton Engagement Rumors: Former No Doubt Frontwoman Told Ellen DeGeneres 'She Loves Weddings,' Confirms Her Kids Love Her BF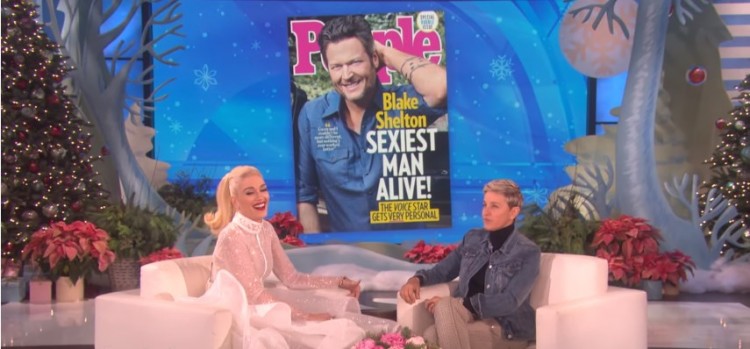 Gwen Stefani graced Ellen DeGeneres' show on Tuesday, April 10, to talk about her upcoming Las Vegas residency. However, it looked like Portia De Rossi's spouse is more interested to know more about the 48-year-old singer's relationship with Blake Shelton and their much-awaited marriage.
According to E! News, Ellen DeGeneres wanted Gwen Stefani to confirm if the rumors that she is already engaged to Blake Shelton are true. The "Hollaback Girl" hitmaker didn't directly answer her question and just said that she felt weird. She got nervous when the 60-year-old talk show host talked about him. "I don't know why," she confusedly said.
It seemed like Gwen Stefani felt conscious talking about Blake Shelton in front of the camera as she might say something she shouldn't. As Ellen DeGeneres pressed her to answer if she is already planning to marry the 41-year-old country singer, she became even more puzzled. She explained if she says they are getting married and then it will happen. On the other hand, if she says they are not tying the knot that would be really sad.
So, to help her decide, Gwen Stefani asked Ellen DeGeneres what she should do about it. "I think you should get married," the Finding Dory voice actress said, "Don't you?"
Evidently, Gwen Stefani was shocked with what Ellen DeGeneres suggested. However, the LGBT activist explained the former The Voice judge was the one who came to her. In fact, she seemed like she was looking for advice and she was just helping her. So, she told her right away that she should marry Blake Shelton.
Gwen Stefani can be seen blushing. She even revealed she loves weddings, and her kids - Kingston (11), Zuma (9), and Apollo (4) - actually love Blake Shelton. Also, her whole family and everyone loves Miranda Lambert's former husband. "He is lovable!" She proudly said.
To make things light and remove the pressure the former No Doubt frontwoman was feeling, Ellen DeGeneres told her she doesn't have to rush things. Gwen Stefani said she perfectly knows that, but she can't help but to think about it all the time. When asked if Blake Shelton is thinking the same, she laughed and responded with she honestly has no idea.
© 2019 Korea Portal, All rights reserved. Do not reproduce without permission.