Netizens Slammed Korea' Lotte Entertainment For Inappropriate Post About Lee Sung Kyung; Company Apologizes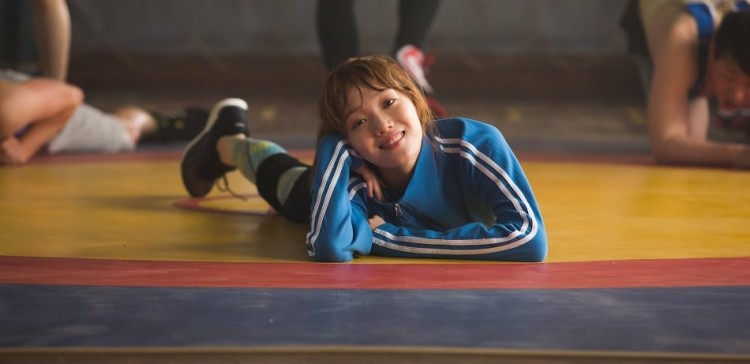 Lotte Entertainment apologizes for an image it shared on social media about Korean actress Lee Sung Kyung. The post has been interpreted by many to be inappropriate.
Lotte Entertainment has shared several photos on Instagram to tease the upcoming movie Wrestler in which Lee will appear. In one of the images, the actress is seen lying on a gym floor, wearing blue workout clothes.
"[Exclusive] Leaked photos of 'A' wearing tight clothes at the gymnasium," Lotte Entertainment wrote in the caption.
The photo quickly stirred negative reactions from fans. Many netizens believe that it is sexual harassment towards the actress. In response to the backlash, Lotte Entertainment changed the caption of the photo and subsequently issued an apology.
The company expressed regret for causing discomfort to fans. It explained that they didn't have any malicious intent to malign Lee. Apparently, they only want to describe Lee's co-star Yoo Hae Jin's character in a humorous way and to emphasize that he is a former wrestler.
"The caption was revised immediately, but it wasn't done to avoid responsibility or to act like it didn't happen. We changed the caption so that people wouldn't feel uncomfortable while reading our post. In regards to this, we ask for your understanding. We promise to be more careful with content we post in the future, and we thank you for speaking up on what we missed," Lotte Entertainment wrote (via Soompi).
Lee Sung Kyung will appear in the comedy movie Wrestler alongside Yoo Hae Jin, Kim Min Jae, and Na Moon Hee. The movie will hit South Korea's theaters on May 9.
The film is about a former wrestler, Gwi Bo (Yoo), who has been doing house chores for the past 20 years. His son Seong Woong (Kim) is a wrestler, too. The two have a tight father-and-son relationship because of one common interest - wrestling. Gwi Bo's peaceful days change after he gets involved in a love triangle with his son. The woman, Ga Yeong (Lee), that his son has a crush on happens to fall in love with him.
Lee Sung Kyung's Upcoming K-Drama
The Korean actress/model has been known for her role in 2016 K-dramas Doctors and Weightlifting Fairy Kim Bok-joo. Lee is coming back to television in the upcoming fantasy K-drama titled About Time. She will star in the series alongside Lee Sang-yoon. Lee will portray a musical actress who has the ability to see a person's lifespan.
The fantasy romance drama is about Choi Michaela (Lee Sung Kyung), a woman who has the ability to see people's life expectancy including her own, and Lee Do Ha (Lee Sang Yoon), a man who can pause the countdown to her death. About Time will premiere on May 21 at 9:30 p.m. KST on tvN.
© 2023 Korea Portal, All rights reserved. Do not reproduce without permission.