Black Pink Update: Jisoo, Jennie, Rosé, Lisa's 'Boombayah' Music Video Reached 300 Million Views On YouTube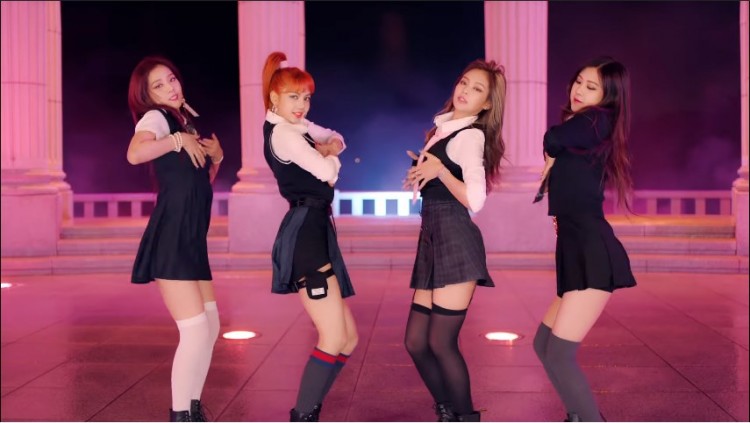 Upon waiting for Black Pink's return, its number one hit single "Boombayah" has now reached more than 300 million views on YouTube. The four-member girl group, Jisoo, Jennie, Rosé, and Lisa, is now celebrating another milestone since their debut in 2016.
Black Pink's first album, titled Square One, was launched two years ago, including the song "Boombayah." This became the girls' biggest track so far. According to All Kpop, since they were introduced, Jisoo, Jennie, Rosé, and Lisa set a lot of new records, and here is another one.
On Monday, April 9, the "Boombayah" music video reached over 300 million views. To recall, in just six months, the clip got 100 million views. In another six months, it got 200 million views. This is Black Pink's first music video that received this massive number of viewership.
Now, Black Pink is in line with Big Bang, who also got 300 million views with their "Fantastic Baby" and "Bang Bang Bang" music videos, per Soompi. Also, BTS joins in with their "DNA" and "Fire." Twice also received 300 million YouTube video views for their song, "TT." Jisoo, Jennie, Rosé, and Lisa are the second K-pop girl group that reached this milestone next to Twice.
As of the time of this writing, Black Pink's three other songs, "Playing with Fire," "Whistle," and "As If It's Your Last," now have over 200 million views. The Black Pink House stars are YG Entertainment's first girl group since 2NE1 got disbanded. In fact, the music label recently revealed the girls are now preparing to release their new album as they recently finished recording their new songs, Billboard reported.
YG Entertainment's head, Yang Hyun-Suk, shared a pink photo on Instagram on March 20, revealing Black Pink had finished recording their new music. In fact, they are now in the middle of preparing to drop their latest single soon. Hence, the much-awaited comeback is about to happen in no time.
Black Pink will also go on a new promotional cycle. It was even recently revealed Jisoo, Jennie, Rosé, and Lisa will be having a Japanese arena tour for the first time. YG Entertainment announced on March 27 that the girls are going to visit the country's three cities and are set to have a total of six concerts. It will start in July at the Osaka-jō Hall in Osaka. Sixty-six thousand fans are expecting to join the event.
© 2022 Korea Portal, All rights reserved. Do not reproduce without permission.