Chaejin, Jo Hyun Ah Dating: Makeus Entertainment Revealed Urban Zakapa's Singer, My Name's member Just 'Playing'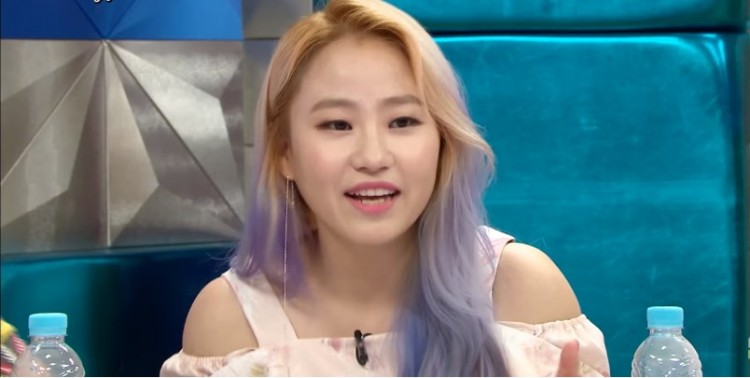 Ever since Chaejin and Jo Hyun Ah's sweet photos together were leaked, a lot of people believed something is going on between the two. However, Urban Zakapa's music label, Makeus Entertainment, denied the claims and released an official statement to explain about the images.
According to All Kpop, the music label explained there are a lot of friends who go together for a drink like Chaejin and Jo Hyun Ah. Their leaked snaps revealed a pack of cigarettes and glasses of wine on the table. As fans who saw the photo believed they were drinking, they were also seen fooling around.
Chaejin, who was wearing dark shorts and a black shirt, can be seen almost on Jo Hyun Ah's top. "They were captured playing a game," Makeus Entertainment explained. There was another snap where the alleged couple just took a selfie. The two were close to each other as the Urban Zakapa singer was leaning on My Name's member.
Contrary to what people believe, Makeus Entertainment strongly insisted, "The two of them are not dating." Chaejin and Jo Hyun Ah are both part of KBS 2TV's The Unit. Thus, fans think they are in a relationship. The 28-year-old hitmaker is the show's mentor, while the 22-year-old idol is one of the contestants.
Their photos started to leak on Sunday, April 8, on an online community platform. Since then, it quickly circulated online. Some fans even gave their comments on the snaps. One fan said Chaejin seemed to be wearing just underwear. Another one questioned their actions and asked how The Unit's mentor and a student could act that way.
Lastly, as they were snapped provocatively, a follower assumed Chaejin and Jo Hyun Ah were in a relationship as the former was just wearing underwear while the latter's legs were wrapped around him. As they were drinking and in that situation, the fan seemed they are something about them than just friends.
Hence, My Name's agency, H2 Media, quickly revealed its reaction to the scandalous leaked photos. The music company told My Daily, per All Kpop, it is still checking the validity of the news. However, as its members are still in Japan, it is asking everyone to wait for their comments on Monday, April 9. So, fans can expect an official statement from Chaejin's music label today.
© 2019 Korea Portal, All rights reserved. Do not reproduce without permission.