'Avengers: Infinity War' Spoilers: Iron Man, Spider-Man May Have Same Bleeding Edge Technology Suits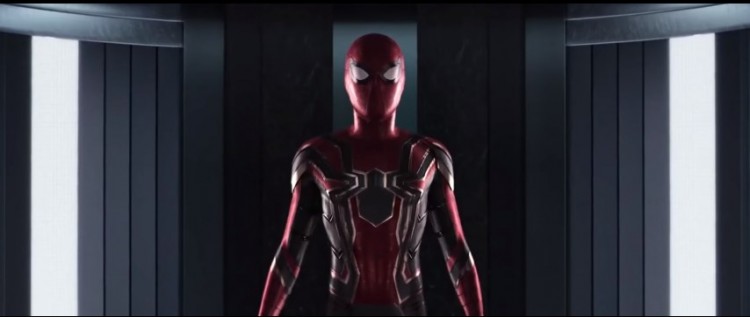 Marvel recently dropped a new Avengers: Infinity War poster showing the movie's 22 characters from Black Panther (Chadwick Boseman) to Thor (Chris Hemsworth), Black Widow (Scarlett Johansson), and much more. However, it was Iron Man (Robert Downey Jr.) and Spider-Man's (Tom Holland) suits that caught everyone's attention.
An eagle-eyed Reddit user named V-sm scrutinized Iron Man and Spider-Man's suits, and it looks like it has the same nanotechnology. From the looks of it, their ensembles seem to be made with the same materials as it both has the signature Y-shaped texture. Although fans already knew how high-tech Tony Stark's suit can be, it is a big question what could Peter Parker's new Iron-Spider suit can offer in Avengers: Infinity War.
Iron Man's new suit is called "Bleeding Edge" armor and it is made of nanotechnology. Hence, his armor can transform itself into different forms and shapes, depending on what Tony Stark is thinking. To prove this claim, the second Avengers: Infinity War trailer showed the self-proclaimed genius revealed a "rocket-thruster" on his feet that successfully sent Thanos' (Josh Brolin) Q-ship out of Earth.
Avengers: Infinity War's key art also showed his arm turned into a huge launcher. According to Screen Rant, Tony Stark's use of nanotechnology is very similar to the advanced technology the movie Black Panther showed.
In fact, at the end of Black Panther, T'Challa decided to begin an outreach program in different countries. So, it might be possible Robert Downey Jr.'s role managed to obtain Wakandan tech and combined it with his own technology.
Hence, if Spider-Man's suit is exactly made like Iron Man's suit, it might be carrying the same Bleeding Edge technology, Comic Book reported. It will have the ability to form itself to whatever the user likes, and will be a great help for Peter Parker in Avengers: Infinity War to fight Thanos.
To recall, Spider-Man's new suit was first seen at the end of his 2017 movie with Iron Man, Spider-Man: Homecoming. Although he refused to accept the armor, it was a hint that this new outfit is the one Peter Parker is going to use in Avengers: Infinity War. With that, fans are now more intrigued about what the suit can do.
Avengers: Infinity Wars will hit theaters on April 23 in the U.S.
© 2023 Korea Portal, All rights reserved. Do not reproduce without permission.