Kim Jong Un Welcomes And Applauds South Korean Artists, Looking Forward To Autumn Event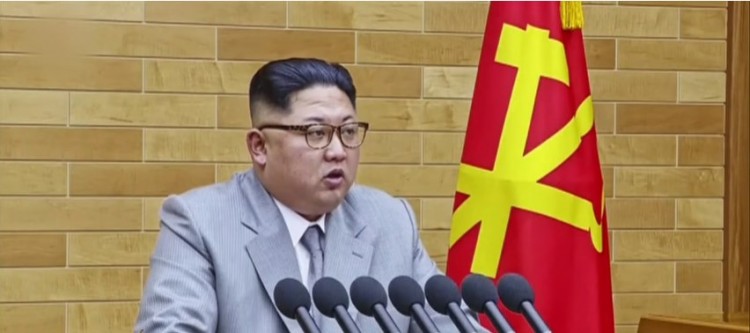 It looks like the relationship between North Korea and South Korea is continuously getting better, thanks to the recent Winter Olympics and the huge K-pop concert that happened in Pyongyang. In fact, the country's leader, Kim Jong-un, welcomed the South Korean artists and even applauded their performances.
Kim Jong-un became the first North Korean lead to watch a K-pop concert in his own country. In fact, as detailed by the country's official Korean Central News Agency per Washington Post, he warmly welcomed the performers coming to Pyongyang and even exchanged greetings with them.
He was even said to be "deeply moved to see our people sincerely acclaiming the performance, deepening the understanding of the popular art of the south side." The supreme leader also revealed that he intentionally fixed his schedule to witness the once-in-a-lifetime event.
Kim Jong-un was also accompanied by his wife, Ri Sol Ju, to the North Korea concert. The leader of the Workers' Party of Korea even hinted that the recent concert happened under the theme "Spring has come"; thus, he wanted to make it "Autumn has come" for the coming season.
One of the performers for the night was Red Velvet. They sang their hit songs "Bad Boy" and "Red Flavor" which definitely pleased the 1,500 concertgoers. In an interview with the South Korean reporters, via ABC News, the group's member Yeri revealed that they were surprised to see more applause than they expected.
From there, they felt like they were warmly welcomed by everyone, so they felt more relaxed and continued their performance. Kim Jong-un even revealed that a lot of people actually wanted to know if he would go to the North Korea concert to see Red Velvet.
Meanwhile, ABC News also revealed that North Korean authorities didn't change any choreography or song lyrics of the South Korean performers. This was proved by the event's music director, Yoon Sang, and the South's protocol officer for the president's office. As a matter of fact, the lineup, which included a number of slow-tempo songs, had successfully entertained the audience.
In the finale, the South Korean artists joined together to sing "Let's Meet Again" and "Our Wish is Unification," which the crowd sang with them. The two-hour concert ended with a standing ovation. "The south side art troupe has brought a spring of peace," KCNA said.
© 2023 Korea Portal, All rights reserved. Do not reproduce without permission.