D-5 Teaser Dropped By EXO-CBX For Baekhyun, Group Will Release Japanese Album 'Magic' In May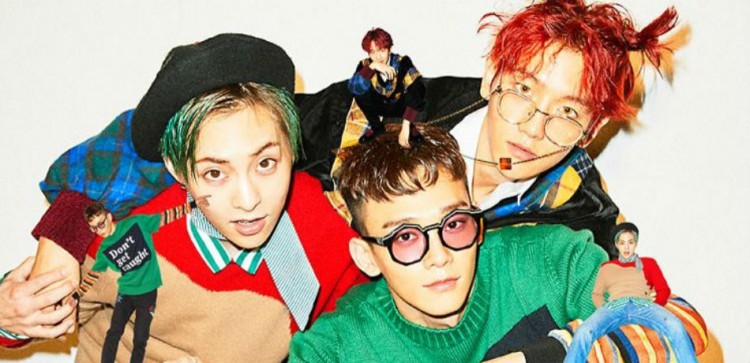 Xiumin, the member of the K-pop band EXO-CBX resorted to an innovative and interesting trend of having some active fun with his scores of fans instead of throwing a party with his friends for a birthday that falls on March 26. He posted two riddles on the fan website of the band and invited his fans to solve them. The riddles were connected to the comeback of the EXO-CBX band, next month.
The riddles played as follows:
#1. Difficulty Level 99
CEOMXINOG-SCOBOXN'
#2. Difficulty Level 326
(CH) (XIU-MIN) (EN) (XIU-1) (B) (MIN+1)
CHEN=>21
B=>04
XIUMIN=>99"
The answer to the first riddle could be "Coming Soon EXO-CBX" and the second one was guessed to be "2018/04/10".
These responses have marked a speculation that the popular band is all set to make a comeback on April 10 this year. This bit of news has caused a major stir among music lovers. Although the band has not made an official announcement of their comeback, several reports have referred to official sources from SM Entertainment, the creator of the group, stating that the band is all set to release a brand new album in April. And, Xiumin's riddles have thrown some much-needed light on these conjectures.
As a follow up to these riddles, another teaser clip was posted by the band on March 31, on Twitter. This D-5 teaser features Baekhyun's lyrics that go, "Shadow of an alleyway street. Once it gets a little longer, I'll be able to come get you," and continues with the yet-to-be-released romantic track by the boy band.
It may also be worthy of mentioning that the band is also working on an album called Magic that will have Japanese songs and will be releasing on May 9. The Magical Circus Tour will begin from May 11. EXO-CBX is a unit of the South Korean brand EXO. Also known as ChenBaekXi, the brand comprises of members Chen, Baekhyun, and Xiumin. It was created by SM Entertainment in 2016 and its first extended play was "Hey Mama".
These riddles and teasers have proved to be interesting advertising tools for fan engagement and have provided for an exciting build-up to the upcoming comeback, album release, and tour.
© 2023 Korea Portal, All rights reserved. Do not reproduce without permission.