Red Velvet Nabs New K-Beauty Endorsement, New CF Drops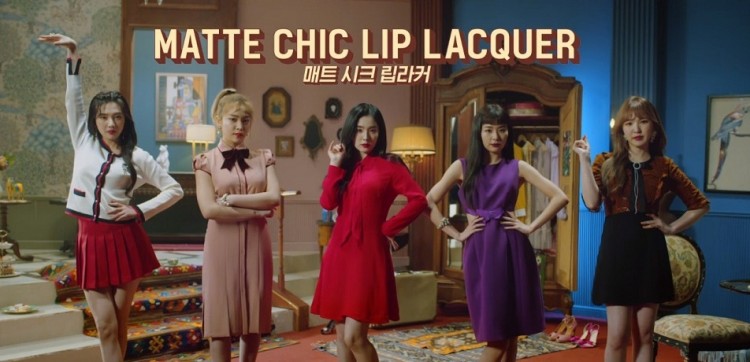 South Korean cosmetics brand Etude House has released a new commercial film featuring K-pop group Red Velvet. The members of the female band wore different lipstick colors in the new stylish ad.
The latest advert of Etude House shows each member of Red Velvet in different shades of lip color and matte level finish. The ad, titled MATTE CHIC Lip Lacquer, features dramatic visuals of Wendy, Irene, Seulgi, Joy, and Yeri.
The new Etude House lip color collection has 12 variants to choose from. Some of the items are named after the band members. There is "War Irene Red," "Wendy Brown," and more. The release of Red Velvet new CF coincides with Irene's 26th birthday.
The new Elude House ad with Red Velvet came just a week after the cosmetic company recalled two of its products in some countries in Asia. The product pull was made after it was found that the cosmetics contain an excessive amount of metal antimony. The Etude House products that were recalled are the AC Clean-Up Mild Concealer and Drawing Eyebrow Duo No. 3 Gray Brown.
These are only two of the 13 K-beauty products that were pulled. Contact with a high amount of antimony is toxic. Antimony is a semi-metallic chemical element. Contact with a high amount of antimony for an extended period can irritate the skin, eyes, and lungs.
Red Velvet Upcoming Gigs
Aside from the new Etude House CF, the K-pop girls are also set to perform in North Korea along with other South Korean artists. The group will headline the K-pop concerts in the North. These are slated from March 31 up until April 3.
Red Velvet, along with the rest of South Korean art troupe, is set to depart for Pyongyang on Saturday. The Perfect Velvet hitmakers will perform their smash singles "Bad Boy" and "Red Flavor" in their concert scheduled on April 1. The K-pop idols will also appear in the joint performance of North and South musicians on April 3.
Moreover, Red Velvet is also scheduled to hold their first-ever fan meeting in the U.S. next month. The group earlier confirmed that they would meet their ReVeluvs in Chicago in April.
The group will first perform at the 2018 Korea Times Music Festival at the Hollywood Bowl in Los Angeles. Then, they will be heading to Chicago for their fan meet at the Rosemont Theater on April 29. The quintet previously performed in other cities in the U.S., but this will be their first time to have a fan meet-style event. The group intends to interact with their followers in a more intimate way rather than the usual concert-style performance.
© 2023 Korea Portal, All rights reserved. Do not reproduce without permission.