Donald Trump, Melania Trump Divorce Rumors: US First Lady Feels 'Humiliated' To Be With Her Husband, Stormy Daniels Reveals Details Of Alleged Affair With The US President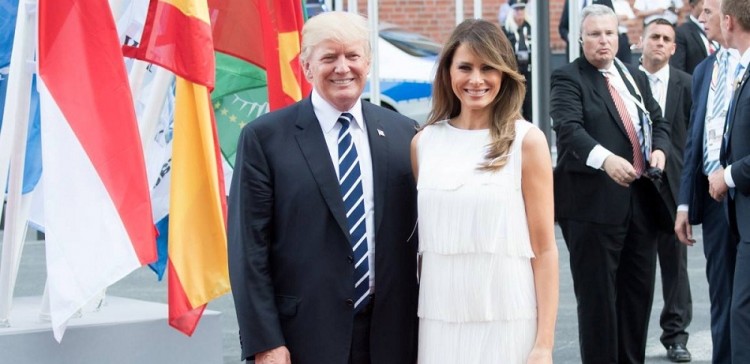 U.S. First Lady Melania Trump is reportedly very embarrassed being with her husband, President Donald Trump, since the latter's alleged affairs with two women while married to her have been exposed. FLOTUS is reportedly more humiliated than ever.
Divorce rumors have been plaguing the First Couple, after accusations that Trump had affairs with two women in the months after Melania gave birth to their youngest son, Barron, in 2006. The First Lady is reportedly furious with her husband and decided to spend the entire week in Florida, away from the president.
Reports indicate that Melania has been unhappy since Donald Trump took the Oval Office. Unlike the First Ladies who have resided in the White House before her, Mrs. Trump is not thrilled to be in the position she is in right now. Now, reports indicate that FLOTUS can't even stand looking at her husband amidst reports that he had an affair with adult film star Stormy Daniels and Playboy model Karen McDougal.
"At this point, Melania feels more humiliated than angry-but, that's not to say she isn't angry, because she is, very. However, she feels embarrassed and disrespected the most, like the whole world is laughing at her. For this drama to play out so publicly is beyond excruciating for Melania, and she can't stand to even look at Donald right now," a source close to Melania Trump told Hollywood Life.
The headlines about the alleged illicit affairs got even worse after McDougal gave an interview on CNN where she disclosed the details of the relationship. Daniels' interview in 60 Minutes with Anderson Cooper also aired on Sunday. She discussed the details of what took place during her alleged involvement with Trump.
Stormy Daniels' Revelation About Her Affair With Donald Trump
Daniels', whose real name is Stephanie Clifford, disclosure about her affair with the president is even more explosive than McDougal. The porn star had confessed to 60 Minutes' host Anderson Cooper that she had sex with Trump one time only and it did not happen again. She said it occurred in his hotel suite during a celebrity golf tournament in Lake Tahoe in July 2006.
Daniels said when they were together, she raised Trump's marriage and Melania to him, but he just brushed it aside. She said the business mogul told her that he and Melania are sleeping in separate rooms. Melania just gave birth to their son, Barron, at the time. Daniels added that Trump had compared her to his daughter, Ivanka.
Daniels said she saw Trump again, but they did not have sex. The adult film star said she meets with him again because they discussed her making an appearance on Trump's Celebrity Apprentice show. When asked if she has any evidence, such as videos, pictures, emails or text messages, that could corroborate her claims of the affair, Daniels refused to answer.
Talking about the threat she had received, Daniels said a man threatened her life if she did not keep her silence about her affair with Trump. Daniels said she was threatened in Las Vegas in May 2011 after she attempted to sell the story of the alleged affair. Apparently, she had agreed to sell the story to a magazine for $15,000. Two former employees of the magazine told 60 Minutes that the publication backed out from their agreement with Daniels after Trump's lawyer Michael Cohen threatened to sue.
So far, Trump has yet to address the scandal personally. The White House and Cohen, on the other hand, have already denied that the affair ever happened.
© 2019 Korea Portal, All rights reserved. Do not reproduce without permission.