GOT7 Latest News Update: 'Eyes on You' Topping Charts, Group Aims To Go Further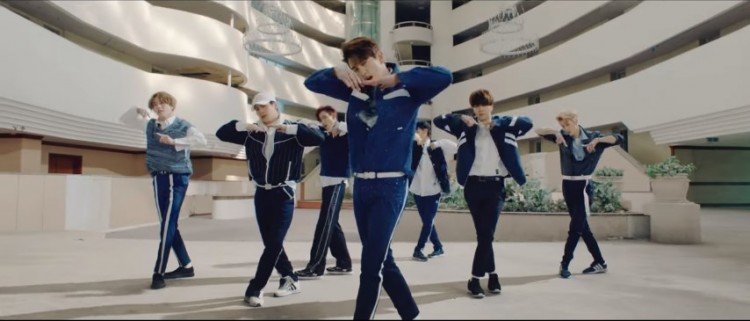 GOT7 triumphantly returned to the spotlight with their new album, Eyes on You, and single "Look." In an interview, the South Korean boy band talked about their fame which is now reaching many corners of the globe and the goals they are working hard to achieve.
The group revealed that they have a lot of energy that might be because they are somehow freewheeling, Soompi reported. "We've tried lots of different concepts," they added. In spite of that, they are always making sure that they are enjoying their selves while they are performing.
In fact, GOT7 just want to continue to have fun, although they are evidently busy. "We're pursuing a bright and cool energy," they added. Talking about their success, the "Just Right" singers admitted that they are getting more praises abroad than in Korea.
They said that when they are visiting the home countries of their foreign members, they gain more popularity. GOT7 revealed that it might be because they have more international members who also help them communicate with their fans all over the world. They are also thankful that their supporters love them as a group and not just as individuals.
GOT7 was introduced in 2014. They are the first boy band that was built by JYP Entertainment after 2PM. They have caught everyone's attention because of their irresistible and acrobatic performances. Although they are often compared to 2PM, they quickly made a name for themselves that gained them an international fan base.
"We still have a lot of ambition to go higher," GOT7 said. Even though they still have a lot to do to prove themselves, they are confident with what they can do. They also admitted that they are committing some mistakes while performing; thus, they regret the lack of results with what they are doing. The group aims to go higher, and they are happy knowing that they can achieve it.
Meanwhile, GOT7, along with other Korean pop idol groups like BTS and NCT, dominated the five top spots of Billboard's World Albums chart for the week that ended on Saturday, March 24. Resting at the No. 2 spot is the group's new album, Eyes on You. The LP dropped on March 12, but it quickly earned them the Hot Shot Debut highlight of the week.
© 2021 Korea Portal, All rights reserved. Do not reproduce without permission.