Jang Dong Gun And Park Hyung Sik Show Off Chemistry In Script Read-Through For K-Drama Remake Of 'Suits'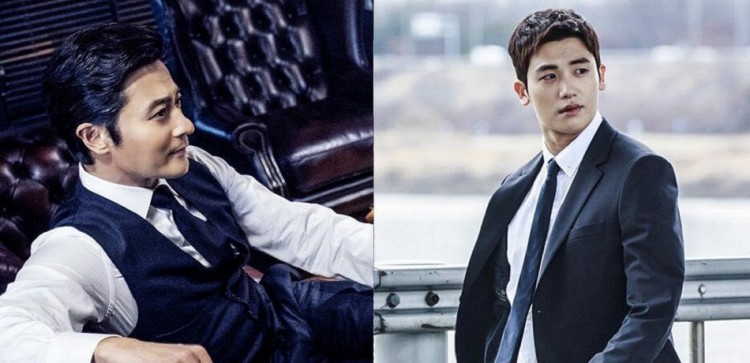 If Meghan Markle and Patrick J. Adams are ending their stint in TV drama series Suits, Korean actors Jang Dong Gun and Park Hyung Sik are just beginning. The two K-drama actors had recently shown their chemistry on screen. Jang and Park had a script read-through session for the much-awaited Korean version of the American TV series Suits.
KBS has dropped some photos from the show's script read-through session with the lead cast members Jang Dong Gun and Park Hyung Sik. This is the first time the actors will be working together, but they already showed a good working relationship during an exchange of dialogues in the read-through, according to Soompi.
The upcoming South Korean TV series is a remake of the hit legal drama of the same name in the U.S. Aside from lead actors Jang Dong Gun and Park Hyung Sik, also present at the script read-through are their co-stars Jin Hee Kyung, Chae Jung An, Go Sung Hee, and Choi Gui Hwa. Director Kim Jin Woo and writer Kim Jung Min also joined them.
The TV series already began filming this month. This will be Jang's comeback on TV after six years since his last drama appearance in A Gentleman's Dignity in 2012.
South Korea's
Suits

K-Drama

Like in the U.S. version, the upcoming K-drama will also follow the life of a distinguished corporate lawyer (Jang). He recruits a young legal genius (Park) who doesn't have a law license or a degree but has the memory of a genius. Jang's charismatic and attractive character is being played by American actor Gabriel Macht (Harvey Specter) in the American version.

Park's counterpart, on the other hand, in Suits U.S. is Patrick J. Adams (Mike Ross). It looks like Go Sung Hee will be portraying Meghan Markle's paralegal character, Rachel Zane. It is expected that Park and Go's characters will also develop a romantic relationship in the series. In the American version, Mike and Rachel are engaged. Adams already confirmed that fans would be treated with a Mike-Rachel wedding by the end of Season 7.

Earlier this year, USA Network announced that Suits would be renewed for its eighth season. The show is currently on a long hiatus. It is set to come back for the remaining episodes of Season 7 on March 28. The season will conclude in two-hour finale episode on April 25, which will also feature the departure of both Markle and Adams.

It is also the same date that South Korea's Suits is set to premiere. Suits Korea will debut on April 25 at 10 p.m. on KBS. It will air on Wednesdays and Thursdays.

© 2019 Korea Portal, All rights reserved. Do not reproduce without permission.