Mamamoo Graces CeCi Magazine's April Cover, Talks About 'Starry Night' And Future Plans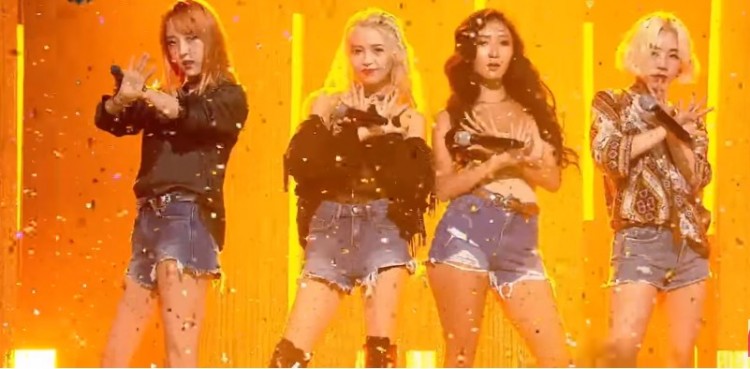 The Mamamoo girls graced the cover of CeCi magazine's April issue. Moonbyul, Solar, Wheein, and Hwasa talked about the release of their new single, "Starry Night," and their future plans for their career.
Mamamoo's photo shoot concept for the magazine was black and white to match the theme of their new song, "Starry Night." The snaps were also taken at night to complete the settings, Soompi reported.
The girls talked about the release of their new mini-album, Yellow Flower. Solar revealed that although the LP is dubbed as mini, it is their biggest project of the year. "We started it nervously but cheerfully," she said.
In spite of that, a lot of people actually liked it and showed their interest in their songs, which definitely make them more than happy. Talking about Mamamoo's comeback, Wheein said that they wanted to show their real "artist" side as a group of people creating music.
With the success of "Starry Night," she added that she felt like they have successfully achieved about 10 percent of their goal. Additionally, with the song's concept, the girls were asked when the last time they saw a starry night.
Moonbyul revealed that she saw a sky full of stars when they were filming the track's music video in New Zealand. In fact, it was the first time that she saw a lot of stars that were so close. This made her feel emotional and felt like she found the reason for living.
Additionally, the girls also talked about their future and where do they see their selves in 10 years time. "I hope that this friendship will have continued 10 years later," Hwasa said.
The 22-year-old rapper explained that the Mamamoo girls are the only friends she had while working. Thus, she is hoping that their friendship will continue, enjoying each other's company, and eating together in the future.
Meanwhile, Mamamoo's "Starry Night" is evidently a big hit. In fact, on the March 20th episode of The Show, Moonbyul, Solar, Wheein, and Hwasa went head-to-head against Momoland and April, and their song ended up winning.
As expected, Mamamoo came first with a total score of 9,700, while Momoland followed with 5,163. The last one was April that got a score of 1,717.
© 2023 Korea Portal, All rights reserved. Do not reproduce without permission.