TV Bio 'Harry & Meghan: A Royal Romance' Teaser Shows Emotional Proposal + Intimate Moments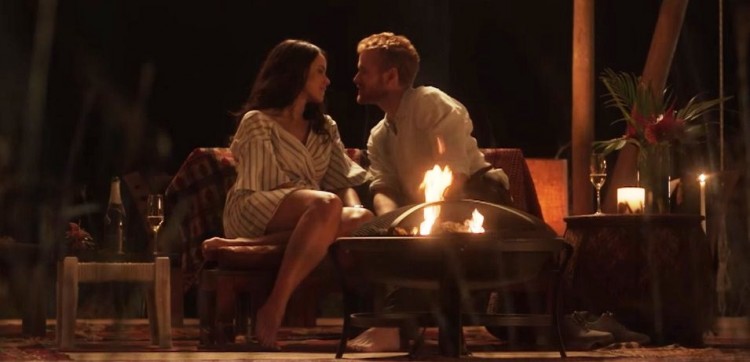 Lifetime has released the first teaser for the upcoming TV movie about the love story of Prince Harry and actress Meghan Markle. The trailer for Harry & Meghan: A Royal Romance teases Harry's emotional wedding proposal to Markle as well as some intimate moments of the couple.
In the trailer, Harry, played by Victoria actor Murray Fraser, tells his girlfriend "I don't need my life to be this perfect royal picture. I just need you" as he gets down on one knee to propose. Midnight, Texas actress Parisa Fitz-Henley will play the role of Meghan Markle. The trailer also offers some romantic tidbits on what to expect in the mini-movie, including some snuggling in bed.
Lifetime also dropped new images from Harry & Meghan: A Royal Romance. One of the photos offers a glimpse of Prince William (Burgess Abernethy) and Kate William (Laura Mitchell) attending a dinner party for Harry and Markle's engagement. Another snap shows Prince William and Kate with their children, Prince George (Preston Karwat) and Princess Charlotte (Briella Weintraub). The third image features Fitz-Henley and Fraser recreating Markle and Harry's engagement photo. The original picture was released a day after the couple announced their engagement in November 2017.
Harry & Meghan: A Royal Romance Storyline
The Lifetime TV movie will chronicle the fairy tale story of how the royal prince met the Suits star. It will feature the courtship, how they kept their romance a secret from the public, and how they caught the attention of the world when they announced their relationship as well as their engagement.
The TV bio will also star Bonnie Soper as Harry's mother, Princess Diana, while Maggie Sullivan will portray Queen Elizabeth II. House of Cards actor Steve Coulter played the role of Prince Charles, while Duchess of Cornwall Camilla Parker-Bowles is portrayed by Deborah Ramsay.
Harry & Meghan: A Royal Romance airs Sunday, May 13 at 8 p.m. on Lifetime, just six days before the couple says their "I do" at St. George's Chapel in Windsor Castle. Meanwhile, the official guest list for Harry and Markle's royal wedding has yet to be released by Kensington Palace. Markle has been officially baptized as a member of the Church of England recently, ahead of tying the knot with Prince Harry on May 19.
© 2019 Korea Portal, All rights reserved. Do not reproduce without permission.