'Avengers: Infinity War' Breaks New Record, Smashes 'Black Panther' Best-Advance Selling Superhero Movie Record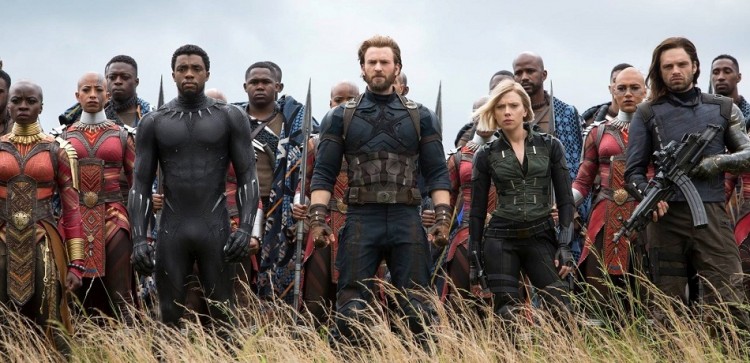 Avengers: Infinity War has broken another record. It has smashed the best-advance selling superhero movie that was earlier set by fellow Marvel movie, Black Panther.
Ahead of its worldwide premiere, the Robert Downey Jr.-led movie became the best-selling superhero movie record ever in the first 24 hours of presales on Fandango. The most amazing part of it all it is that it only took six hours for Infinity War to bump Batman v. Superman: Dawn of Justice and Black Panther down in the list. Tickets for Infinity War went on sale at 6AM PST/9AM EST on Friday.
Black Panther has already grossed over $1.1 billion at the worldwide box office since its release last month. Many are expecting that Infinity War will also break that record. Black Panther lead star Chadwick Boseman is one of the many Marvel superheroes set to appear in the upcoming film.
Meanwhile, as a bonus to early ticket buyers, Fandango is offering a complimentary Infinity War poster sketched by artist Kaz Oomori. The number of posters to be given away is only limited. Tickets can also be purchased directly from theater chains. AMC Theatres is also hosting a 31-hour Marvel Cinematic Universe movies' marathon for fans.
Avengers: Infinity War Trailer
The star-studded trailer features all of the Marvel Cinematic Universe's superheroes - from the Avengers to the Guardians of the Galaxy. All of them suited up against one common enemy - Thanos (Josh Brolin). Marvel has been teasing the villain in post-credit stingers since the first Avengers film which was released six years ago. In Infinity War, Thanos will try to gather all of the six Infinity Stones and the Avengers will do everything to prevent him from using it to wreck the universe.
Benedict Cumberbatch (Doctor Strange) earlier promised that Infinity War will be a "mind-blowingly epic" movie. Aside from RDJ, Cumberbatch, and Boseman, other cast members are Chris Evans (Captain America), Chris Hemsworth (Thor), Mark Ruffalo (Hulk), Scarlett Johannson (Black Widow), Tom Holland (Spider-Man), Paul Rudd (Ant-Man), Chris Pratt (Star-Lord), Zoe Saldana (Gamora), and more.
Avengers: Infinity War will hit theaters on April 27. It was previously scheduled for release on May 4 but Marvel announced that will open a week earlier than scheduled in a cute exchange of tweets with Downey Jr. (Iron Man). The yet-to-be-titled second installment will drop in 2019 and it will be the culmination of Marvel's decade-long cinematic universe.
© 2023 Korea Portal, All rights reserved. Do not reproduce without permission.