Eminem Attacks NRA; 'River' Rapper Castigates Gun Lobbyists In iHeartRadio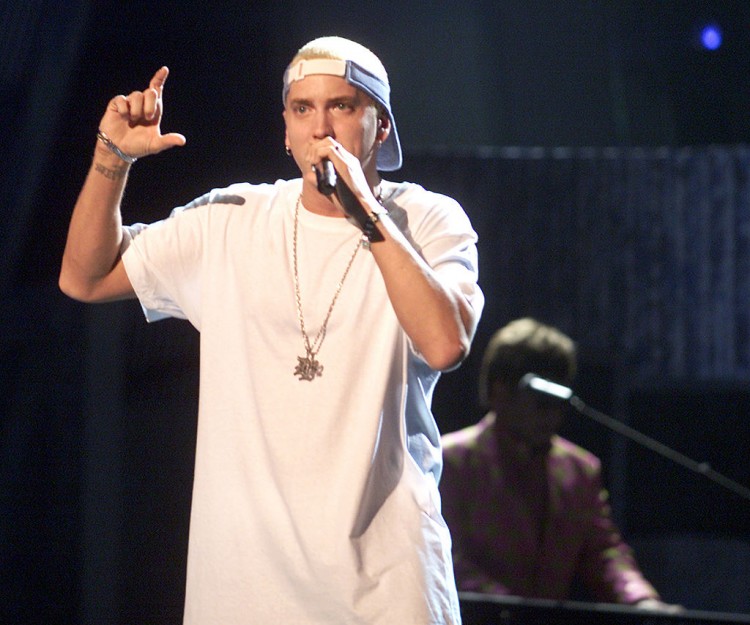 Eminem can't contain his thoughts about the continuous production of guns despite the death of innocent children. The "Nowhere Fast" rapper revealed his thoughts about the National Rifle Association during his performance at the recent iHeartRadio Music Awards in Inglewood, California.
According to a report by The Guardian, the performance of Eminem at the iHeartRadio Music was opened by Alex Moscou, who is one of the survivors of the school shooting in Parkland, Florida, that killed 17 students. Moscou unveiled that he and his fellow students are fed up with the politicians in the country who only sends their thoughts and prayers after shooting tragedies. He even stated that these politicians aren't doing anything to stop the same tragedy from happening again.
Moscou's speech was then followed by the "Cleaning Out My Closet" rapper's performance together with Kehlani. He even revealed that NRA is controlling "the puppet" which many people believe was in reference to the current President of the United States, Donald Trump.
"This whole country is going nuts, and the NRA is in our way, they are responsible for this whole production.;They hold the strings, they control the puppet and they threaten to take donor bucks; So they know the government won't do nothing and no one's budging; Gun owners clutching their loaded weapons and They love their guns more than our children," he added to the lyrics of "Nowhere Fast".
Em has always been vocal about his thoughts on Trump. He even revealed in his "Campaign Speech" rap that Trump makes his blood boil. For Em, the United States wouldn't be great and it's not going to become the best country in the world if Trump is in charge.
Meanwhile, Billboard revealed that Em wanted to something he has never done before when it comes to the creation of his new music video. And so, Director Emil Nava made a documentary of the meaning of "River" which many fans loved.
The success of the song and music video might have been caused by the possibilities of abortion and infidelity, which happen in this generation. There's no doubt that the song's lyrics can reflect in most people's relationship and life.
Eminem continues to blow his fans' mind, as he creates songs and lyrics that touch millions of lives.
© 2019 Korea Portal, All rights reserved. Do not reproduce without permission.