'Poldark' Leading Lady Eleanor Tomlinson To Launch Singing Career, To Debut Album in May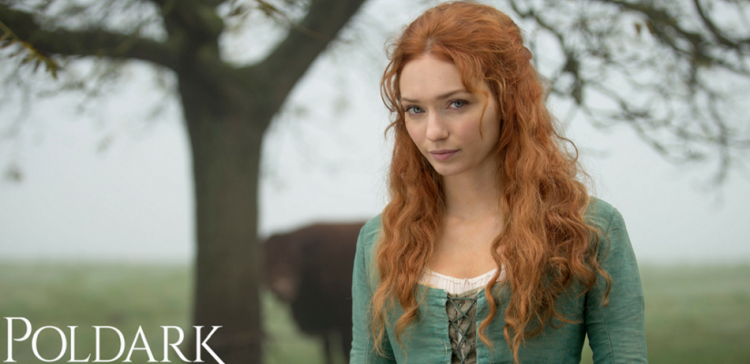 Poldark star Eleanor Tomlinson is not just an actress, she is also a great singer. Tomlinson is set to drop her debut folk album in May.
The album, titled Tales From Home, contains Tomlinson's covers of Simon & Garfunkel's "Homeward Bound," Carole King's "Tapestry," and Bonnie Raitt's "I Can't Make You Love Me." It will also feature "The Spinning Wheel" track that is about Tomlinson family. The 25-year-old actress recorded the single with her brother, Ross Tomlinson.
Tomlinson's first album is produced by Oscar-winning composer Anne Dudley, who is also the woman behind Poldark's soundtrack. Dudley has long collaboration history with Elton John, Tina Turner, and Robbie Williams. Tomlinson said she is grateful to work with Dudley and added that she was inspired to make the album by Poldark fans.
Tomlinson is best known for her role as Demelza Poldark, the red-haired husband of Ross Poldark (Aidan Turner) in the hit BBC One series. She also recently starred in the Vincent Van Gogh biopic, Loving Vincent.
Poldark Season 4
It doesn't look good between Ross and Demelza when the series returns for Season 4. Ross will be facing the betrayal of her wife, Demelza, who cheated on him with Hugh Armitage (Josh Whitehouse) in Season 3 finale. Series creator Debbie Horsfield earlier teased that there will be more tough times ahead of the Poldark couple.
Moreover, Ross will be heading to Westminster next season, which may further strain his relationship with Demelza. In the previous season, Ross finally decided to pursue a career in politics and will defend Cornwall from George Warleggan (Jack Farthing).
"He's [Ross] not desperate to head off to Westminster, but a catastrophic happening in episode one of series four makes him realize that in order to have the power to effect any change, he needs to get out of his comfort zone," Horsfield told Radio Times.
Meanwhile, Harry Marcus is not coming back to reprise his role as Geoffrey Charles in the third season. He will be replaced by Louis Davison as older Geoffrey. New characters will also appear in Season 4. Veteran English actress Rebecca Front will be joining the cast as Lady Whitworth, the mother of Reverend Osborne.
Another villain will threaten the marriage life of Ross and Demelza in the forthcoming season. The dreadful friend of George, Monk Adderley (Max Bennett), will set his eyes on Demelza. A BBC One description stated Adderley is "an unscrupulous society figure who is on a collision course with the Poldarks".
The filming for Poldark Season 4 has begun in September 2017 in several locations across England. It is expected to premiere in early summer 2018. It airs on BBC One in the UK and over at PBS in the US.
© 2018 Korea Portal, All rights reserved. Do not reproduce without permission.